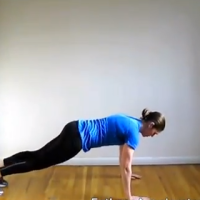 Guest Post by Kate Vidulich
Author, Fat Loss Accelerators
Lack of time.
It's the number 1 excuse for missing a workout and the major factor holding you back from getting the fat loss results you want.
The number 2 reason for skipping the gym is beer and the after-work happy hour party. There is no research to prove this; it's just my personal observation.
Nothing feels better than finishing strong in a crazy, tough workout that leaves you dripping in sweat. How much workout time do you need to accomplish this?
Less than you imagine.
Seriously, what can you really get done if your schedule is totally jammed and the gym is overflowing?
Think about this for a moment. In a regular workout session, 10-15 minutes can elapse by the time you get cracking – before you reach the awesome heart pounding, fat blasting action.
Now I'm not saying you should skip dynamic warm ups or core training when you're pressed for time, these are very important components. But you need to get into the meat of your session as soon as possible.
You need a plan. You need to focus. You need to hustle.
The ONE big fat loss workout mistake to AVOID
Fat loss workouts are not like a Sunday afternoon bike ride. This is a mistake I see folks make all the time.
Resting for too long.
Ideally, your rest breaks between exercises should be no longer than 30 seconds when training for fat loss. It takes discipline, and should go without saying that you must use a timing device (GymBoss interval timer or your iPhone).
With no control over your rest periods, your trip to the gym might as well be happy hour (just without the beer – how boring).
But listen; if you're in a rush to get a workout done and you're serious about getting results, you have zero time for rest. This creates a metabolic disturbance that will push your limits, save time and condition your entire body.
You need a fast, fat-burning workout solution that you can do in a small space with minimal equipment. Yes, training with intensity and avoiding extended rest periods will leave you sweating buckets, but this will accelerate your fat loss results.
You have 20 minutes to workout. So before you jump on the dreadmill and do intervals, consider a more challenging, fun way to get a kick ass workout done.
Enter what I call Fat Loss Accelerators.
These intense, targeted interval workouts involve the strategic use of compounding, hybrid exercises to maximize fat burning and training time to break through plateaus.
Be different. Try unique metabolic movements in the FLA workouts can help you save time in your training sessions, maximize your calorie expenditure and eliminate the boredom of cardio.
You can say bye-bye to intervals on the sweaty dreadmill. Actually, just say screw you to cardio entirely. This is a challenging fat blasting solution that will condition and transform your body and your mind.
Try this intense workout solution today
Replace your interval days with Fat Loss Accelerators, and reduce the stress involved with thinking and planning.
Rock on,
Kate
No way Kate… YOU rock on with your wicked wicked accent. You rock the casbah.
Click Here to Accelerate Your Fat Loss 

Tags: fat loss circuits, interval workouts, metabolic finishers, workout finishers