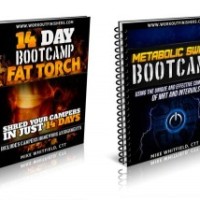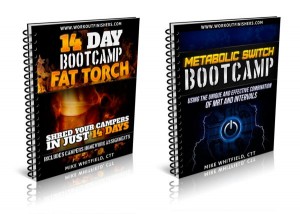 I don't mean to sound cheesy, but there was a sound made last night that was music to my ears. It was Champ, my 20-month old son, and he was cackling over and over as I threw him high (almost too high) in the air and let him land in the pool, but keeping his head above water. On numerous occasions, he even snorted. I think he's going to be a dentist because he is always getting me to open my mouth, and then he proceeds to inspect my teeth… what a weirdo. I have a pic on my facebook page.
This was just after my "Impromptu" workout since the dumbbells here at the condo only go to 25 pounds. I almost threw in the towel, but decided to make tweaks to my program so I can stick as close as possible to the last week of my 4-week program.
So, if you're lacking heavy dumbbells, switch to single limb movements. For example, I did 1-legged Romanian Deadlifts instead of regular Romanian Deadlifts, which worked my legs harder with the lighter weight (still not as heavy as I wanted, but it was better than nothing).
Throw in some bodyweight exercises like decline close-grip pushups, and you have a metabolic conditioning smoothie.
But that's enough about my workout… let's talk about yours, which starts this week's Q and A….
One question that repeated itself was, "How do I know which program will work for me?".
The truth is that there is no "perfect" program out there for everyone. What works best for me and my clients is doing 3-4 metabolic resistance training programs, with each one ending with a finisher. That's what works. But if I had a bodybuilder that came to me that loves working out 5-6 days per week for 90 minutes, they won't like my program, and I'm fine with that.
Here's what to ask yourself…
– Can I follow this type of program each and every week?
– Am I getting results? (Measure results by measurements and how your clothes fit… NOT the scale)
– Do I look forward to my workouts?
I also got lots of questions about the Bootcamp Finishers…
Q: Mike, I'm not a bootcamp trainer, but I like using finishers. Should I still get this program?
A: If you want minimum equipment (mostly bodyweight in fact) finishers, than you can use the finishers inside the manual, even if you don't coach bootcamps.You can even use the exclusive bonuses, the 14-Day Fat Torch Program and the Metabolic Switch.
Last Day to get FREE bonuses and Discount ==> Bootcamp Finishers
Q: What is the 14-day Fat Torch program like?
A: It's a day-to-day blueprint you follow for 14 days. It's challenging, but that's why it's 14 days. And if you run bootcamps, it even has homework assignments you give to your campers.
Q: What are the metabolic effects of finishers if used on their own vs after different types of workouts?
A: This is a great question. I've always pushed the idea to use finishers after your main workout, but I've had several readers and even clients use them on their off days and they love it. They were getting the same results as if they were being used right after a main workout. But I would like more feedback. So, if anyone does this for at least 2-4 weeks and still gets results, please let me know. I'd love to hear from you.
Q: How do I use MRT Training with only my bodyweight?
A: There are several approaches – I like the 1-1/2 rep method. For example, when performing a Bulgarian Split Squat, you would go all the way down, halfway up, then all the way down, and finally, all the way back up. That's one rep. You could use that with pushups, too. Also, use eccentric movements. Take 5 seconds to lower yourself. That will increase difficulty on any exercise.
This method and more is in the MRT programs that come with Bootcamp Finishers.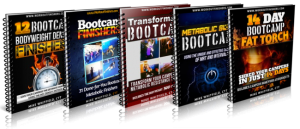 Q: What would a weekly nutrition plan for you look like?
A: This is worthy of its own blog post. Great call. I'll prove to you that I'm human and splurge on pancakes, pizza and more. But in a nutshell, I'm really boring. I LOVE eggs and eat them just about every day. I also eat almond butter on Ezekiel bread with a glass of milk just about every day. But believe it or not, I'm slowly trying to go gluten-free since my wife is attempting it. I'll keep you posted on the progress.
Q: How many finishers per week should I do?
A: Since they are so taxing and mentally exhausting, I would recommend only doing finishers 4 times a week at most.
Q: I have horrible willpower. My results won't come because of it. Any suggestions?
A: Let me be clear here. I'm a sucker for junk food. If there are chips sitting out, I'll eat them… plain and simple. So, from a former fat guy, take these suggestions:
– Set up your environment for success. That means eliminate junk from your house or workplace. If it's in the house, you will eat it. Somebody brought cake to the office for a birthday… AGAIN? Come into the breakroom, give the birthday boy a high five, and go back to your desk.
– Set up your own rules. I learned this from Craig Ballantyne. Your rules will dictate your results. For example, one of my rules is that I don't cheat on the weekdays until Friday night. This allows me to splurge on a couple of meals on the weekends.
I hope that helps.
FREAKY FRIDAY FINISHER OF THE WEEK
Great questions – still more to come. But let's do this week's FREAKY FRIDAY finisher. It's taken directly from the Bodyweight Density Finishers manual…
The 3-For All Finisher
Do the following circuit as many times as possible in 5 minutes, resting ONLY when necessary:
1A) Burpees (3)
1B) Prisoner Squat (3)
1C) Close-Grip Pushups (3)
1D) Walking Lunges (3/side)
1E) Spiderman Climb (3/side)
Let the freaky good times roll….
Mikey, CTT
P.S. Today is your LAST CHANCE  to get over 40 done-for-you bootcamp style finishers AND the two FREE bonuses, 14-Day Fat Torch program and Metabolic Switch.
Discount and Bonuses Expire TONIGHT ==> Bootcamp Finishers
Tags: bodyweight circuits, bodyweight finishers, bootcamp routines, metabolic finishers