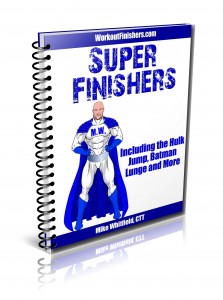 The Finisher Empire strikes back with some new moves and finishers, along with a hot new metabolic resistance training program…
Super Finishers and Metabolic Chaos

And you get BOTH of these as FREE bonuses when you pick up my friend Roman's Superhero Fat Loss program.
What is the Superhero Fat Loss program?
For one thing, you'll develop an explosive workout pace that continually feeds your body with more and more energy every time you do it, leading to a cycle of CONSTANT progress.
That's how Roman's programs work. He's got a unique talent.
Not only that, but you'll also identify and eliminate the Kryptonite foods that rob you of your strength and progress so that you maintain your killer physique for good.
So, here is what you need to do to get your FREE bonuses.
Get your program from https://trainwithfinishers.com/superherofatloss
Once you get it, email Sarah at cranktraininghelp@gmail.com and be sure
to forward your receipt.
You will not only get the new Super Hero Finishers, but you will also get the Metabolic Chaos Metabolic Resistance Training program.
These programs are my latest MRT programs and Finishers and they include some new moves inspired by the Super Heroes:
– The Hulk Jump
– The Batman Lunge
– Much, much more
You'll love Finisher #9 – "The Dark Knight Heart Thumper" (it's nasty, but effective).
In Workout B of Metabolic Chaos, you'll find some more strength and finisher supersets, which burn off even the most stubborn belly fat.
But the only way to get BOTH of these programs as bonuses is when you get Roman's Superhero Fat Loss program right here:
=> https://trainwithfinishers.com/superherofatloss
Then email Sarah to get BOTH the Super Finishers and Metabolic Chaos programs.
May you never, EVER get bored with your workouts,
Mikey, CTT
P.S. Be your OWN Superhero and you can even replace the finishers in Metabolic Chaos with any of the finishers found in Super Finishers.
Go ahead – become your own Superhero right here
Tags: metabolic finishers, metabolic resistance training, Superhero Fat Loss