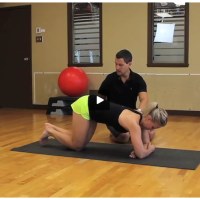 I'm heading out to the cool state of Michigan to film some finishers this weekend. In fact, I have a NEW finisher using the wicked Gauntlet method for you today.
You see, there's an easy way to give yourself an "unfair" fatburning advantage.
Just add more "sophisticated" movement patterns into your workouts.  This one simple trick will…
Recruit more muscles and burn more calories
Fire up your nervous system for faster fatburning
Train your body to move better, reducing injury risk
Use your entire body, leading to increased metabolism
Save you a LOT of time (by boosting fatburning with SHORT workouts)
So how do you do it? Easy, you use 3-dimensional exercises that
take advantage of complex movement patterns
require several muscle groups to work together, and
call for significant stabilization and coordination in the core
My buddy Adam Steer is known for sniffing out and even inventing a ton of these cool and efficient fatburning exercises. And most of them don't even require any equipment.
Here's a great example, the Rotating Plank:
==> Try the Rotating Plank exercise [free detailed VIDEO]
The video features Adam teaching the exercise in detail. This is a powerful full-body movement that challenges your abs and cranks up your fat burning metabolism in a hurry.
And it's just one of the many cool exercises Adam includes in his BRAND new Bodyweight Burn program. By using the most innovative exercises along with the very best and latest workout technologies, Adam has been able to jam some serious fatburning power into workouts that only last 21 minutes!
Yeah, 21 minutes. Now imagine adding any one my NEW 39 ZERO -equipment bodyweight finishers like this one:
This is from the Gauntlet Bodyweight Finishers Manual
The Burpee Combo Gauntlet
Do the following circuit 3 times, resting for 1 minute between circuits (feeling crazy?… do it 4 times)
Burpee/Spiderman Pushup Combo (8) Superman Pushup (6/side) Burpee/X-Body Mountain Climber Combo (8) TD Bulgarian Split Squat (8/side) Double Burpee (8)
And to celebrate the launch of the newest and most potent program yet, he's giving you a huge $50 DISCOUNT on the system this week:
==> Big $50 discount on the Bodyweight Burn system (ends tomorrow)
Adam's also giving away a total of 7 special launch bonuses, including his proprietary 10-in-12 Diet. At the special discounted price, the bonuses are worth more than you'll pay for the entire system! That's what I call a "no-brainer"…
But as if that wasn't enough, I believe in this program so much, that I'm GIVING away my NEW Bodyweight Finishers System including all 5 of these manuals:
13 Gauntlet Bodyweight Finishers
13 Density Bodyweight Finishers
13 20-10 Bodyweight Finishers
Bodyweight Switch (Strength and Finisher Supersets)
Bodyweight Dirty 30 (30-minute no-equipment workouts)
You can do Adam's workouts and my finishers in your Grandma's living room on Thanksgiving. Sure, that would be weird, but it's just cool.
Look Grandma, I'm burning fat in your living room. Happy Thanksgiving.  #winning
Get Adam's program and all 5 bonuses through this link
Then forward your receipt to us at cranktraininghelp@gmail.com, and Cole will send you all 5 manuals.
Enjoy the video! Watch it here:
==> Detailed Rotating Plank video
Mikey, CTT
Tags: bodyweight circuits, bodyweight workouts, build muscle and lose fat