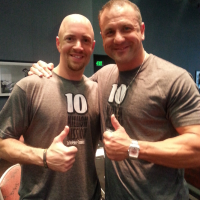 At the TT Summit, I got some ugly looks as well as a few claps after using this weird static hold ab exercise.
It was in the finisher of the bootcamp workout on Friday morning. There were 3 groups that morning and the third group got to experience a brand new finisher I haven't used before.
I had written it on the plane the day before. Here's the move…
You already know what a Spiderman Pushup is, right?  It's when you perform a pushup but you bend one knee.
For the Spiderman Pushup PLANK, you simply hold the bottom of a Spiderman Pushup for a certain amount of time (at the Summit, we did it for 10 seconds per side).
This is much harder than it looks.
Unfortunately, it's also in Workout C of my Bodyweight Dirty 30 program. I say "unfortunately" because it's after a circuit of bodyweight exercises so you'll already be huffing and puffing.
Here's workout C of that program:
1A)
 Lateral Lunge (10/side)
1B)
 Elevated Pushup (8/side)
1C)
 Prisoner Reverse Lunge (10/side)
1D)
 Pushup Plank (30 secs)
1E)
 Squat Shuffle (8/side)
1F)
 Decline Pushups (15)
1G)
 Total Body Extension (15)
1H) 
Spiderman Pushup Plank (20 secs/side) 
***Rest 1 minute and repeat 2 more times
Ha, the finisher after this workout is even intenser!
"INTENSER" <== Word of the day. It's new (and awesome).
Did you know you can make ANY exercise more intense by using a suspension training system? When you perform a pushup using straps, you'll work more muscle and your core will have to work a lot harder to stabilize.
And you'll give your joints a break from traditional weight lifting, too.
But here's the thing… many people are afraid of trying a suspension trainer workout because they think it's too expensive to invest in a suspension training system.
But when you make a little trip to Home Depot or any other supply store, you can create your own for pretty darn cheap.
Fortunately, I found this video online that details step-by-step on how to create your suspension training system.
Pretty cool huh?
My buddy Dan Long, a Suspension Training Expert has created a step-by-step 20-week program…
… all with follow-along videos, too.
He's got crazy energy and you'll see that in his intro video on his new site.
Watch Dan's intro video here <== Crazy, crazy man!

I was so impressed with his program, I offered to create a bonus that comes with his program – Strap Finishers.
You can add any of the Strap Finishers to his workouts, but I'll be honest with you…
… hold off on doing that the first week.
His program has exercises that are not even in the TRX manual. He's literally invented NEW exercises. That's why he was encouraged to do follow-along videos with his program.
By the way, he's also ripped and jacked at 40. See the photo of us below from the TT Summit:
You just can't get the same effect from just photos and descriptions with his program.
And after just taking photos for my Strap Finishers, my abs were wickedly sore the next day. So I suggest doing his program like this:
Week 1 – Less "volume" by cutting back on the number of sets and hold off on using any of the Strap Finishers
Week 2 – Do all sets as outlined in the program (but do them with Dan – he'll coach you every rep of the way and make sure you have the BEST form)
Week 3 – Just like week 2, but now you can add any of the Strap Finishers
Week 4 – Jump in all the way baby… don't hold back
Then continue with the rest of the program… you'll hit your core hard improving your ab strength PLUS you'll get more definition because of the constant tension suspension training gives you.
And when you're short on time, you can use my Bodyweight Dirty 30 program, which are packed full of 30-minute ZERO equipment workouts.
Suspension Revolution 2.0 + Bodyweight Dirty 30 = No Excuses
Grab Dan's NEW Suspension Revolution 2.0 here
Then forward your receipt to us at cranktraininghelp@gmail.com.  We'll send you the Bodyweight Dirty 30 bonus your way.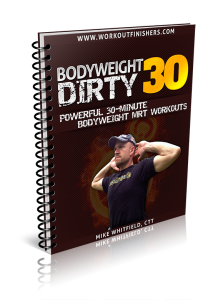 Train hard and have fun… then eat pancakes,
Mikey, CTT
Tags: strap exercises, strap finishers, Strap workouts, trx exercises