Ohhhh baby, have I been having fun with "density finishers" lately.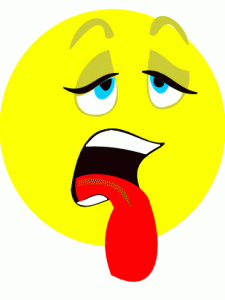 I did one with a client earlier this week and I got some dirty looks, but he also smiled when he was finished.  That's the perfect metabolic finisher – when you feel finished, but not completely defeated.  Boom-shacka-lacka.
I got a cool upper body finisher for you to try, but first, I need to catch up on some Q and A.  (My bad – I know it's been a couple of weeks).  I've been working on a project with my friend and hardcore trainer, Travis Stoetzel, which will be open to the public next week.  If you're a wuss, don't even bother learning about it.  I love being politically incorrect – it feels amazing.
Alright, let's do this.
Q: I'm on my last 2 weeks of TT May MRT 2011.  I'm using your ab finishers for certain days of the MRT program and loving it. Anyways, I'm looking for a non biased opinion of which program would suit me best to cut fat and possibly show a little muscle before the big wedding trip. – Justin
A: Justin, I've used the TT MRT as a template for several clients and it certainly works. Congrats on getting through it – it's tough.  Any TT program will do that, but you will need to watch your diet of course.  If you want to get fancy, you can use higher calorie days on your workout days and go light on your off days.  Keep working hard.
Q: Mike, I really enjoy your finishers including the "Ab finishers" I have purchased. Some exercises I already have been practicing with my clients as I am a personal trainer and boot camp instructor. As most of my clients are females, I am hearing more and more about incontinence. Here is my question: are there any exercises I can teach my girls to help them to feel more comfortable in their bodies? Do you know any, not only preventative, but perhaps after the onset exercises to strengthen the pelvic floor muscles? I greatly appreciate what you do and I am very hopeful that you do have an answer to my question, for so many women can get help. 
A: Honestly, I'm not an expert on isolating the pelvic floor muscles.  But luckily, I know who is.  Go to my friend Sarah's blog, http://www.fithealthymoms.com.  She has some great content there for women.
Q: I keep seeing the email about the workout finishers. I have tried a few and I like that end to the workout. I am a marathon runner and I train with kettlebells and jump rope 4x a week. For past couple years I have been trying to improve my race times. I have been stuck at the same pace and have been frustrated. No matter how strong I feel I always end up coming within a few minutes of my best time and never beat it. I feel like I am training hard but always fall short. Do you think these finishers will help me to improve my time? And how long before I see a real improvement? Any help is appreciated. – Lissette
A: Lissette, first of all, congrats on never giving up.  I love your perseverance.  Finishers do help with conditioning, but as much as I love finishers, this is what I would do to improve your time.  Just remember, I'm not a running expert.
1) Incorporate interval training – periods of high intensity followed by recovery
2) When doing strength training, reduce the sets for leg exercises to one.  That way, you'll save your strength for the training.
3) Finally, incorporate hill sprints – this will help with your aerobic capacity and improve
your overall fitness.
Keep up the good work!
Q: I am interested in this product but I have had eight knee surgeries.  I was always chunky but in good shape…as I had a very physical job. I use a Gazelle trainer as it is easy on my knees. The exercise keeps the pain from the Osteoarthritis down. I also have no cartilage in my knees – braking horses, playing hockey and basketball did not help either. But I need help. I weigh 250 pounds and I just can't seem to lose the weight that I need to. Will your program work for these limitations that I have?
I would advise to NOT get the finishers program.  I would ask your doctor for guidelines and start with a trainer to show you basic movements.  You can work your legs without bothering the knees with a variety of hip extensions, but again, get with a certified trainer to get you started on the right track.
**************************************************************************************************
Good stuff, and good questions.  Hope this helps.  Alright, let's dance…
Density training is when you perform as much volume as possible in a certain amount of time.  I first learned "the art" of density training from my friend John Romaniello.  But lately, I've been putting this principle in with metabolic workout finishers.
An example of density training would be something like this – do as many circuits as possible in 10 minutes:
1A) BB Squat (10)
1B) DB Row (8/side)
1C) DB Chest Press (12)
But what's even more fun is applying this madness to a metabolic finisher.  I've been experimenting with different rep and set schemes and getting good feedback from my coaching clients.
Obviously, using this density style with a finisher would be shorter.  As of now, my favorite density finisher is the superset of the Goblet Squat and the KB/DB Swing.  Good times.
My favorite finishers to write are total body finishers – they are typically more intense, but sometimes, I do like to incorporate split finishers when I'm on a split program.  This upper body density finisher has been a hit with clients:
The Upper 4 x 4 Finisher
Do the following superset as many times as possible in 3 minutes.  Rest only when needed, but form must be perfect.
1A) Chinups (4)
1B) Close-Grip Pushups (4)
Yes, only 4 reps.  When I first wrote it, I thought about doing 6-8.  But mentally, it's more of a challenge, and I actually like the fact that you can do many supersets in that little bit of time.  I goofed in the video – I said 5 minutes, but start with 3 minutes… trust me.

 Let the good times roll.  Finish this week strong,
Mikey, CTT
P.S. After looking at this video, I learned I need to work on my chinup form.  The first step is admitting it.
Tags: fat loss cardio, fat loss workouts, metabolic finisher, metabolic finishers