I hate it when I see people totally abandon their workout program
when they hit a plateau or think it's not working.  Most of the time,
all it takes are a few tweaks.
This is really important when you realize you found a program you
really enjoy, too.  Don't give up your program just yet.  Use these
tweaks to get the most out of your workouts:
Tweak 1
Switch just one starch for a non-starchy vegetable or protein.  This
alone can cut 200-300 calories daily.  See what that does after 2
weeks.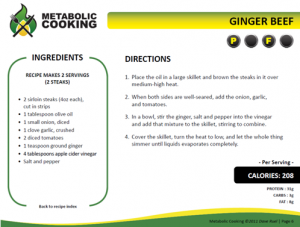 Also, please stop with the rice cakes and broccoli.  That's
disgusting.  Try recipes like this instead:
Tweak 2
The next thing you can do is switch to single limb exercises.  So
instead of a DB Chest Press, you would do a Single Arm DB Chest Press.
Do all reps on one side and then switch.This is also a great way to work your abs.  Do a 1-Arm DB Incline
Chest Press while keeping your other hand on your abs.  Aim for
6-8 reps.  You will feel your abs working hard to stabilize (good
times)
Tweak 3
And finally, you can increase the intensity of your workouts by
using challenging finishers that use major muscle groups instead
of usual interval training.
Here's a new one I tried with a client last week:
"The Power of Tres" Finisher
Do the following circuit 5 times, resting for 10 seconds between circuits:
1) Lunge Jumps (3/side)
2) Chin-ups (3)
3) Prisoner Squats (3)
4)  Mountain Climbers (3/side)
Alright, start using these tweaks to improve your workout intensity
and bust a plateau. After all, it's April.  Beach season is quickly
approaching.
Boom goes the fat-torching dynamite.
Start this week strong and finish strong,
Mikey, CTT
P.S.  Here is that ginger beef recipe again
=> Ginger Beef Recipe (Yummy)