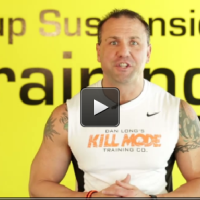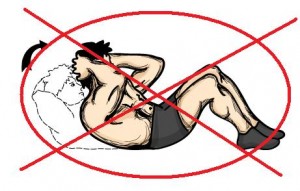 If you want to improve your core strength and get stronger abs, then you need better exercises than just planks or crunches.
I've been asking the most advanced trainers I know for the best Core Training ideas to add into my finisher programs as well as my full workouts.
One coach that I asked, Suspension Training expert, Dan Long, of Tampa, Florida, gave me the following 3 core exercises that are guaranteed to make you stronger and get you ripped abs.
Dan is a world-renowned TRX trainer, having worked with many pro athletes and actors down at the legendary Powerhouse gym in Tampa. I've hung out with him several times and after you see his video, you'll want to superset deadlifting a semi-truck and banging your head against anything that makes a really loud noise.
Dude… I'm serious.
Here's what Dan put together in a killer core circuit. And for kicks and giggles, I'll plug in another TRX Finisher, too. Because, hey, that's how I roll, and hey, that's a lot of commas in one sentence.
Killer Core Circuit with the 3 Best Exercises
1. Suspended Front Plank w Body saw
2. Suspended Side Plank L/R w Scissor and Reach Under
3. Suspended Reverse Plank w Hip Drop and Raise
*All exercises performed 30 sec to 2 min
**Rest 1 minute and repeat 2 more times
Dang, my abs will be smoked from this and if you dare, yours can be, too. What's crazy is that I'm used to doing Stability Ball Jackknives, Rollouts, etc. and my abs still get sore from doing suspension training.
Dan is the most HIGH-energy trainer you'll ever meet, which is why you want to learn his Suspension Revolution methods through his videos that show you dozens of UNIQUE exercises.
You'll NEVER meet another trainer like this. Ever. Seriously. Get ready to be so pumped up to train that you'll be ready to run through a wall. Check out this cool cat:

I also asked Dan for exercise descriptions. Here you go, but again, it's so much better with Dan's photos and videos in his full program here:
=> The Suspension Training Revolution <= Get over 190 exercises
Killer Core Circuit Exercise Descriptions (PRINT these out)
Suspended Front Plank w/Body Saw:
1. On your knees, face down, place feet in foot cradles of
suspension trainer, and support your body on your elbows.
2. Lift your knees off ground and straighten legs into front plank position.
3. Rock your body on elbows back and forth like a body saw for desired amount of time.
Suspended Side Plank L/R w/Scissor and Reach Under:
1. Put feet in foot cradles, and then lie on your Right side. Lock your feet in an offset foot position (top leg/foot behind bottom leg/foot).  Get onto Right elbow, and lift body straight up on sideelbow, raising left arm straight up.
2. Scissor feet apart, and then reach under with your left hand, and return to start position, with feet locked in offset position, and left arm straight up in air, and repeat for desired amount of time, then get on Left side.
3. Repeat on Left Side/Left elbow for desired amount of time.
Suspended Reverse Plank w/Hip Drop and Raise:
1. Lying on back, with heels in foot cradles, put hands flat on floor, and raise body straight into Reverse Plank position, then lower hips just above the ground and lift back to start position.
2. Repeat for desired amount of time.
***
That's siiiick bro <== Dan said this, not me. But it is sick bro.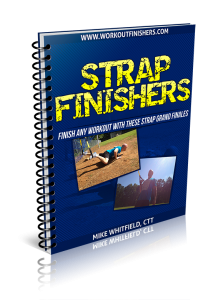 But wait there's more…. Let's do a NEW Strap Finisher, too.
Why not?, that's why. This is directly from the Strap Finishers Manual that comes with Dan's program. (I was so stoked about his program, I wanted to add to the madness).
Finisher # 9
"Strapped to Invert, Split and Push"
Do the following circuit, resting only when needed. In the first circuit, you will perform 6 reps of each exercise. In the next circuit, you will perform 5 reps of each. Continue in this fashion until you complete 1 rep of each exercise.
1A) Strap Inverted Row w/Feet Elevated (6…1)
1B) Strap Bulgarian Split Squat (6/side…1/side)
1C) Strap Pushups (6…1)
You MUST meet Dan. Watch his introduction video – the dude is passionate.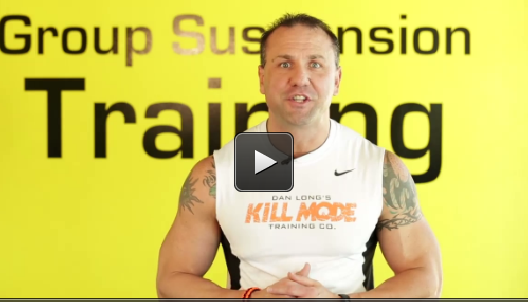 Let me know how the circuit goes,
Mikey, CTT
Get 27 BRAND NEW Suspension Workouts and 191 Exercises Here
P.S. Don't forget to forward your receipt to us at cranktraininghelp@gmail.com once you get Dan's program from the link above so you'll get the FREE bonus, "Bodyweight Dirty 30", which are 30-minute bodyweight workouts.