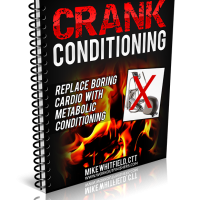 I got an email from Brad Pilon that I want to share with you. However, he screwed up my plans to share a metabolic conditioning circuit 🙂
So you get a 1-2 punch today if that's cool with you.
First, here's Brad's email – GREAT advice here:
*********

It's commonly said  that you can gain fat and lose muscle at the same time, but it's also said that it's impossible to gain muscle and lose fat at the same.
Likewise, people think that if you lose fat you'll just gain it all back later, but if you lose muscle it's PERMANENTLY gone forever.
Why are the bad things always inevitable, and the good things always impossible?
I think people are afraid of change. Oddly enough, it's not that they're afraid of changing themselves – they're afraid of YOU changing. Especially if you are changing for the better.
You've heard the rallying cry of the Naysayers: 
Diets are bad for you, be happy with your body, don't try and change.
Besides, changing is too hard, too complicated, and too much work.
For the most part they're right.
Changing your body has become very difficult, very complicated and far, far too much work.
After all, you have calories and calorie cycling, carbs, glycemic index, amino acids, protein loading, hormones like grehlin, leptin and growth hormone, and of course you have your metabolism to worry about. That's a lot of stuff to stress about if you want to lose some weight.
In the industry we call it "blinding them with science" – complicating things  to the point where the level of complexity and confusion can be paralyzing…
This is where Eat Stop Eat is different.
At its core Eat Stop Eat is weight loss distilled to it's finest level – A unique method of intermittent fasting designed specifically for men and women who want to lose fat without sacrificing their muscle mass and energy levels, and without a long list of things to worry and stress about.  It's dieting stripped naked of all the complexity and contradicting rules that are normally associated with eating for weight loss.
Forget the Naysayers. If you want to change, then change.  Don't let complexity hold you back.
Your friend,
Brad
If you're interested in a simple and non-complicated approach to weight loss then I highly suggest you get the newest edition of Eat Stop Eat. 
The most simplest "diet" EVER ==> THE NEW EAT STOP EAT
**************
Cool stuff from Brad. I've used his program myself and with my most successful clients. 
Alright, yesterday, in the Workout Finishers Inner Circle, I was asked about adding another conditioning workout on an off day but without interfering with recovery.
His program is 3 days a week. I do believe in staying active on your off day, but not jeopardizing your recovery. Staying active helps you stay "mentally in the game", helping you make better decisions (like an apple, not apple pie).
So I told him a simple template would be bodyweight squat, strap row (if you have one), pushups, jumping jacks, spiderman climb with a reach (SCREACH) and total body extensions.  
All moves should be for 30 seconds, resting for 1 minute between circuits. Now you can add a third circuit in week 2 if you're up to it and you're recovering fine. But start with only two.
Here's a twist – you can also do high-rep resistance training.  HOWEVER, it's important to choose a weight that does NOT allow you to train close to failure.
An example would be DB Rows (20/side), but choosing a weight that you could probably lift for around 25-30 reps.
My coaching clients love this as they wanted something to do on their off day to speed up fat loss but without impacting their recovery.
That's what Crank Conditioning is all about. 
These are metabolic conditioning workouts you can do on your off day to speed fat loss but NOT drain you.
It's the ideal workout on your fasting days with Brad's NEW Edition of Eat Stop Eat. You'll sweat, burn calories and yet still be ready for your workout the next day.
They aren't marathon sessions either.
Here's how to get Crank Conditioning:
1) Get Brad's book at this link below:
==> Get Eat Stop Eat + Crank Conditioning here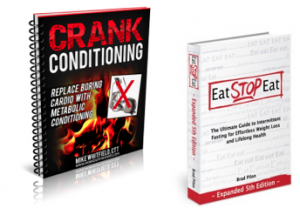 2) Forward your receipt to us at cranktraininghelp@gmail.com
3) We'll send you the Crank Conditioning bonus so you can burn fat on your off days. 
Boom goes the conditioning and the simplest diet ever dynamite,
Mikey, CTT
Tags: fat loss diets, intermittent fasting, metabolic conditioning circuit