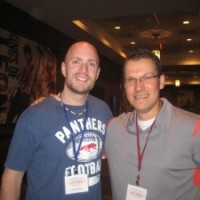 It's easily one of the BEST exercises you need to put in every one of your programs. That's why it's a STAPLE in my metabolic resistance training programs and my crazy
finishers.
But I know it can be painful…
… especially as we get older.
And because of the pain it brings you, you avoid doing this crucial exercise, halting your progress in its tracks.
In this video, you'll discover two simple, yet powerful "tricks" to avoid pain during this must-have exercise in your finisher tool kit. Do NOT avoid this "old school" exercise because it's too valuable to your progress.
Rick is a good friend of mine and he is my go-to guy when it comes to preventing and dealing with pain. Thanks Rick – we really appreciate your time.
And here is what you may have missed this week…
A step-by-step, rep-by-rep workout guide from my gal pal, Shawna Kaminski to increase your pull-ups, whether it's by one or 10…
Chris Lopez and I discuss everything between finishers, conditioning, KB workouts and even nutrition here…
Amazing interview with Chris Lopez with a KB Workout
My experiment with a unique approach to what's been working for me, as well as an unconventional method to keep the fat at bay thanks to my friend Adam Steer…
One Weird Trick to Block Fat Gain
In this week's Q and A, we discuss everything between motivation, my preference of intervals or finishers and more…
Intervals or Finishers?… With Q and A