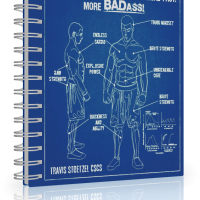 Crossfit – it happens. Unless you've been living under a rock, Crossfit is one of the biggest trends in the fitness industry in years.
Whether you know about it, have tried it out, or heck, you belong to a Crossfit Gym now, love it or hate it it's here to stay.
I wouldn't call it a trend anymore because it's been proven to be effective.
At the same time, it's proven to be a bit bad as well…
Some people bash Crossfit. Some people think of it as if they are Mike Whitfield and Crossfit are pancakes.
Ha. I talked about me in like the 4th person or something.
Anyway, I'm not here to argue against it or say it's the best training in all the land.
But for the first time EVER, someone actually took the time to take the BEST of Crossfit and make it even BETTER…
… while at the same time, actually REMOVING the bad.
It's called the "Unbreakable Badass Blueprint".
Certainly you remember my buddy Travis Stoetzel, the passionate strength coach from Nebraska that is so passionate, I partnered with him a while back with our Hardcore Finishers program.
Travis is a HIGH LEVEL unaffiliated Crossfit competitor himself, and he's taken the best of the best, removed the crappy stuff and created a monster blueprint that's LIKE Crossfit, but it's much, much better.
This system is BETTER than Crossfit 
As I mentioned, there's a lot of good and bad things that surround Crossfit like…
…too many randomized "WOD's" with no programming, or the fact that most Crossfit programs lack any sense of progression based training that it causes a ton of injuries, but again I'm not here to argue on anything…
I just want you to train smarter and training smarter is training with a proven system. And you'll find that with Travis.
>>> The best of Crossfit with a PROVEN system
By the way, I was just chatting with Travis in California a couple of days ago. This is the kind of guy he is…
… he was walking through the corn fields of Nebraska and saw two things lying on the ground. One was a huge tractor tire and the other was a big sledge hammer.
Most people would have just walked by, but not Travis.
"I'm going to take that hammer and beat the crap out of that tire… because I can, that's why", he said. Then BAM!…
That's his mentality. And that's why he's jacked, yet ripped at the same time.
He's unbreakable, and you can be unbreakable, too.
Mikey, CTT
PS – Imagine taking all of the good Crossfit has to offer such as gains in lean muscle, strength, power, and insane amount of conditioning all while eliminating the bad (fear of injury, lack of programming and progression) PLUS adding more then having all of that within in one system?
Well, Travis calls this his "Controlled Chaos" method of programming and you can get it all right here…
>>>  The UNBREAKABLE BADASS Blueprint 
PPS – I thought I'd like to add that Travis just put this up on SALE the other day for less the $30.
You'll be getting 12 FULL weeks of progressive training to become stronger and leaner, while at the same time becoming MORE athletic.
And when you get his system from the link above, forward your receipt to us at cranktraininghelp@gmail.com and we'll send you "Anabolic Finishers".
You'll get 16 muscle-popping finishers that use more resistance exercises with crazy rep schemes to create more muscle definition like this one…
"Pull Over and Push" Upper Body Finisher
Do the following superset, resting only when needed. In the first superset, you will perform 8 reps of each exercise. In the next superset, you will perform 7 reps. Continue in this fashion until you complete 1 rep of each exercise.
Use a weight you can lift for about 15 reps for the DB Pullover.
1A) DB Pullover (8, 7… 1) 1B) Explosive Pushups (8, 7… 1)
 Get Unbreakable and Anabolic Finishers here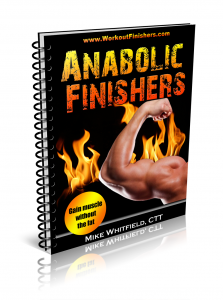 Tags: Crossfit, fat loss, fat loss workouts