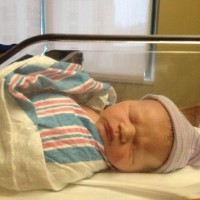 My guilty pleasure moment of the week had arrived. I poured a nice tall glass of cold tea, grabbed my silverware and headed to the living room.
I unfolded my TV tray and set out my unique dinner of celery sticks with garlic hummus and a big serving of chopped chicken pretty much soaked in hot sauce. It wasn't pancakes, but it did the job.
I turned on the DVR to watch my ridiculous guilty pleasure…
Dallas. How did I get into this? I have no idea. I feel like a fool admitting it though.
Then all of a sudden… about 10 minutes into it… baby Deakan, who was due on Feb 7th, finally started to let us know he was ready to come into this world.
"Ahhh c'mon man! For realzzz? And I'm supposed to do some YouTube videos tomorrow morning. Finisherzzz, not babyzzz", I said to baby Deakan. 
I scrambled to get everything packed into the car and ready to rock. Champ, who is 2 years old, looked more confused than a hungry cow on astro turf.
 Ha-ha! … ha! A-ha-ha-ha! I'm tired.
Long story short (ha!… whatever!), my Dad picked up Champ while my wife, Sabrina, and I headed to the hospital. We arrived at around 7:30 last night and 6 hours later, Deakan had arrived … at 8 pounds 10 ounces!
So, welcome baby Deakan to the Finisher Freaks family.
And since I'm running on only about 90 minutes of sleep and adrenaline, I thought it would be fitting to share with you an adrenaline conditioning circuit.
"It's one of the best workouts you've ever written", said my long time client, who has taken part of hundreds of my workouts for 6 years now.
It's part a new program coming in March… more details coming on that soon.
It's zany – just like Sabrina chowing down on pancakes right in front of me earlier this morning…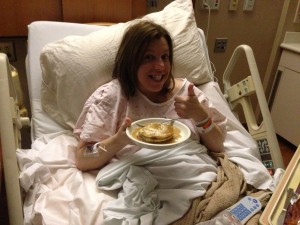 Not only is it a conditioning circuit, but you'll have to do a finisher AFTER the conditioning workout. That's why I'm calling the program "Finishers Aggression". 
Let's get aggressive….
"Sweet 16 Conditioning Circuit"
Do the following circuit as many times as possible in 16 minutes, resting only when needed. Remember – if your form is getting sloppy, take a break. 
1A) Shuttle Sprint (use a short distance – around 10 feet) (back and forth 6 times)
1B) Pushup Row (6/side)
1C) Vertical Jump and Stick (6)
1D) Explosive Pushup or Triple Stop Pushup (6)
1E) Alternating Diagonal Lunge (6/side)
1F) X-Body Mountain Climber (6/side)
Once the clock hits 16 minutes, rest TWO minutes and then do the following:
Total Body Extensions  – 30 seconds, followed by 30 seconds of rest – Do this 5 times
He was a rock star for knocking this out – his shirt was soaked.
Like many finishers – it looked "easy" on paper, but don't let that fool you…
Boom goes the awesome sauce conditioning dynamite,
Mikey, CTT
P.S. If you think that was rough, check out these supersets: