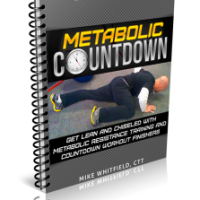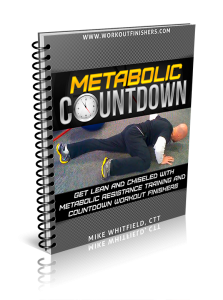 When I got into Vegas today, I went to lunch with Rick Kaselj and had Mexican food (yeah, I said it).
We talked business, like we always do, over some deliciousness Mexican food (I like Mexican food so much, I typed it twice).
I'm not bothered that I indulged a little bit. I don't obsess about my food (that's why I dig intermittent fasting).  But do know this…
… when it's time to work out, I go to war. I don't train to failure or anything like that. You see, I like to challenge myself with the main workout and aim for 1-2 personal bests from the previous workout.
So, if I did 18 reps last time, I'll aim for 19 reps. I won that battle. I put my eyes on the next battle immediately.
The metabolic countdown works the same way. It is YOU against the clock. You walk into the metabolic workout finisher ready to go to war. After all, it's Fall and that means you could look a LOT different by Christmas.
You complete Workout A of the NEW Metabolic Countdown MRT program, and now it's time to do the finisher. You start with a certain amount of reps, like 8. Then, you complete the circuit of 7 reps. You keep going.
By round 3, you're starting to feel fatigue. But then the second wind comes in because you see the light at the end of the tunnel. Because with each round under your belt, you're that much closer to glory.
That's the style of finisher at the end of each workout in the Metabolic Countdown program. YOUR mission – to BEAT the time it takes you to complete the finisher than last time.
By doing that, you're getting better…
… and by getting better, you're getting LEANER.

Listen, if you're happy with how fit you are and don't want to challenge yourself any further then that's fine.
However, if you feel that you haven't tapped into your full fitness potential…
Or, if you'd like to train for an adventure race…
Or, if you want to get in jaw-dropping amazing shape, then…
Today's your last chance to get your hands on Yuri's Unstoppable Warrior Adventure Workouts at 50% OFF the regular price.
PLUS, you'll get my bonus, Metabolic Countdown MRT program, with every workout ending with a workout finisher countdown.
Even if you have no intention of running an adventure race, these intense workouts (which can be done pretty much anywhere) are a must-have for anyone serious about taking their body and fitness to new heights.
The workouts are not easy but it will be highly rewarding when, at the end of your short 4-week journey,you look in the mirror and are amazed by what you see.
Become an unstoppable fitness warrior <——— Last chance for 50% OFF
(and it's your last chance to get my bonus, Metabolic Countdown)
1. Here's how to get your bonus:
2. Grab Yuri's program today.
3. Email us at cranktraininghelp@gmail.com with the receipt.
We'll send you the bonus, Metabolic Countdown
(but this offer expires today, too)
Now go to battle,
Mikey, CTT
PS. According to Yuri, a fitness warrior is one who conquers oneself. Someone who is courageous enough to get uncomfortable and strive for greatness. Someone who is willing to do whatever it takes to reach their goals. Someone who never gives up.
If that's you, then this is too…
Unstoppable Warrior Adventure Workouts <— Last chance for 50% OFF
(And your last chance to get the bonus, Metabolic Countdown)
Tags: adventure race workouts, metabolic finishers, metabolic resistance training