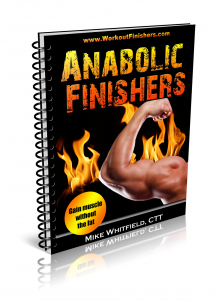 "What am I doing here? I'm too old for this crap. We better be eating pancakes after this." This is what I said in my head after the hardest workout I've ever done.
It was in the summer of 2012 in San Diego with my buddy Travis Stoetzel and CJ Easter. He took me well out of my comfort zone. It was actually more mentally draining than anything.
We did stair sprints, pull-ups, pushups, goblet squats with a rock (yes, a rock), shoulder presses with a rock and more. Travis likes rocks.
When we were done, I was exhausted, yet riveted at the same time. I was on a high. When you experience one of Travis's workouts, that's what they do to you. Trust me.  I've lived it.
And yesterday, I told you how he literally REMOVED everything bad from Crossfit style workouts and wrote a 12-week progressive workout blueprint to literally become a "badass".
You won't get "workouts of the day" with Travis. This guy put together a solid plan for you to get leaner, more athletic and stronger.
He should know. He's a high level unaffiliated Crossfit competitor himself.
This system is BETTER <== Everything GOOD from Crosscut
But if you think you're not ready for this kind of challenge, he's added something just for you. Had I known I was going to work out with Travis, I would have used this myself.
He created what's called the "4-Week Badass Bodyweight Preparation Manual" (no rocks required).
Travis just added this in as a FAST ACTION LAUNCH BONUS to his newly released UNBREAKBLE BADASS Blueprint training system.
What makes this so valuable is that it adds in another way for you (who might not be at your true potential "badass" level of fitness quite yet) to get a 28-day preparation guide to help you DOMINATE his 12-week system.
If you follow the simple progressions that Travis has laid out, you'll no doubt be ready to take on not just phase 1 of his UBB system, but you'll be ready to take on ANY program.
Consider this your warm-up phase. Sure, you'll burn fat and build lean, athletic muscle… not to mention improve your conditioning.
But it's more than that. It will literally turn on your inner beast.  After all, that's what his workouts did for me.
And at the end of the 4 weeks, you'll go through the "Beast Test" and literally see your progress after just 4 weeks.
Only THIS kind of bodyweight training program is the key to helping you get stronger, more conditioned, but more importantly, INJURY FREE.
After all, if you do any of those other "thrown-together" workouts, you'll hurt yourself in the process from overuse injuries and then you won't be able to get more chiseled at all and spring is right around the corner.
Without a "break-in" phase, you won't be able to get the best results from Travis's Unbreakable program.
Get the UNBREAKABLE BADASS Bodyweight Training Guide 
Oh and if that wasn't enough, Travis has even added in yet another BONUS, the "Garage Gym BADASS Masterplan".
So not only will you get a 28 Day Bodyweight Preparations Manual, you'll also get a blueprint on how to build your own Garage Gym!
Not to mention, you'll get 16 of my "Anabolic Finishers" broken down into upper body, lower body and total body categories. It's simple – get Travis's system from this email, forward your receipt to us at cranktraininghelp@gmail.com, and we'll send you the bonus.
That's the good news. The bad news? Now you have no excuse to get leaner AND stronger, all while getting more conditioned to dominate workouts for life…
… just in time for spring. You'll become a certified athletic beast (CAB). Then you can tell your friends, "Yeah dude, call me a CAB". Then a taxi will show up and everyone will be confused. But who cares. You're unbreakable.
Get Unbreakable + All the Bonuses + Anabolic Finishers here
Boom goes the cab dynamite,
Mikey, CTT
P.S. Tomorrow, I'm going to share with you the workout we
did in San Diego. Brace yourself.
Tags: Crossfit, fat loss workouts, finishers