Brutal. Print this out and try it. This is the "Captain's Gauntlet", found in my latest Finishers Manual, "Super Finishers".
Get Super Finishers AND Metabolic Chaos FREE
You can get both the Metabolic Chaos Metabolic Resistance Training
program as well as Super Finishers when you get Roman's Superhero
Fat Loss program at 50% off this week only through the link above.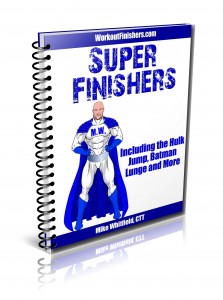 Alright, let's do this.
Captain's Gauntlet
Do the following circuit 4 times, resting for 20 seconds between circuits:
1A)
Captain Chops (3/side)
1B)
Renegade Pushups (10)
1C)
Captain Chops (3/side)
1D)
1-Arm KB/DB Swings (10) (switch which side you use with each
circuit)
1E)
Captain Chops (3/side)Now that's how you finish off any workout.
"Mikey, what the hoot is a Captain's Chop?".
First, I find it hilarious you said, "hoot". Second, don't worry; I got my shirt wet just from getting the photos ready for these new exercises. I also have some goodies such as the Batman Lunge and the Hulk Jump.
The best way to describe it – lunge and chop at the same time.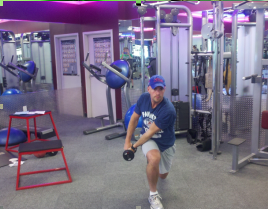 Here's the best part – you can create your own Grand Finale by replacing any of the finishers in Metabolic Chaos with any of the Super Finishers.
You get both of these when you get my friend Roman's new Super Hero Fat Loss program through the discounted link below.
Grab it right here <== (50% Discount Expires)
"Mikey, what is Roman's Superhero Fat Loss"?
I have the answer for you imaginary person made up in my head so I can type that question.
I first met Roman in 2011. As a matter of fact, we even filmed a
finisher after he had already worked out and then he pulled his
groin.
Sorry Romanz. Why you jump so much??
Anyway, here is a brief description from his blog:
****************************************************************
The Super Hero Fat Loss is a 12-week program engineered to be
kryptonite to your fat cells–but it's more than just fat loss. In
addition to helping you bring your waist size down, it will bring
out your abs, help create dense muscle definition…while increasing
endurance, strength, speed and power.
In just 12 weeks, you'll get leaner and more athletic, creating a
physique that looks and performs like it just jumped out of the
pages of a comic book. (With the exception of flight – can't help
you there. Sorry.)
The goal, the reason it this book was written, the very reason it
even exists, is to make you look and perform like a SUPER HERO. Or,
more accurately, to look like a SUPER HERO as defined by Hollywood,
and perform like a SUPER HERO in the comics.
******************************************************************
Thanks Roman's Blog.
Let me be transparent here. This program is 100% pure vanity. It's designed to make you lean, with dense muscle, but still capturing an athletic look, much like a Super Hero.
And yes, it works for women as well – as a matter of fact, he has a component JUST for women.
Start the program here and get your FREE BONUSES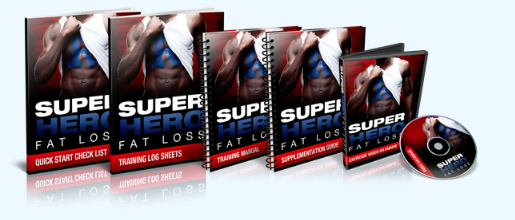 But the big plus with this program is the way it is designed. You will not only lose fat and create a more athletic look, but you'll also become more athletic.That's what this program delivers. Roman's programs have even inspired some of my finishers. One of my favorite techniques he uses is what's called "density circuits".
What's a Density Circuit Mikey?
Sure thing imaginary person in my head again…
This is when you set a timer for a certain amount of time and then proceed to do a circuit of 3-6 exercises (sometimes more, depending on the phase) with a certain rep range. You do as many as possible in that amount of time.
This will exhaust your muscle's glycogen while putting in a ton of volume in a little bit of time. This leads to fat loss, but it also leads to more athleticism.
Grab Roman's program at 50% off <== This Week Only
And because you're up to the Super challenge, you'll get Roman's program from the link above and then forward your receipt to us at cranktraininghelp@gmail.com. We will then hook you up with BOTH:
Metabolic Chaos – A Metabolic Resistance Training program with metabolic finishers including the zany, but effective strength and finisher supersets in Workout B.
Super Finishers – My latest finishers you can plug in with any workout including new exercises like the Batman Lunge and the Hulk Jump. You'll love the Batman Lunge – you'll work too many muscles in just one move.
So, here's what you need to do:
Step 1. Get Roman's Super Hero Program through this link:
Super Hero Fat Loss <== (50% DISCOUNT LINK EXPIRES)
Step 2. Forward your receipt to us at cranktraininghelp@gmail.com and we'll send you BOTH Super Finishers and Metabolic Chaos.
Step 3. Get started.
Don't forget, you can even choose your own grand finale by replacing the finishers in Metabolic Chaos with one from the Super Finishers manual.
May you never, EVER get bored with your workouts,
Mikey, CTT
Grab Roman's program below and grab your bonuses:
==> https://trainwithfinishers.com/superherofatloss