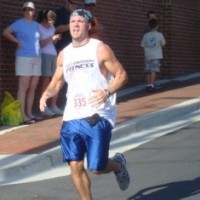 It's a big day for me tomorrow (or today… or last week… there we go, I got it all covered whenever you read this).
July 4th, 2003. The alarm goes off at 5 AM, and I slowly make my way downstairs. 5 AM was early for me back then. Today, it's sleeping in (I get up at 4:30).
I don't need caffeine quite yet. The adrenaline from how far I had come in 6 months is enough to wake me up. Because 6 months earlier, I was 300 lbs (see photo to the left, and add another 30 lbs), wearing 46″ jeans and XXXL shirts.
At this point, I had lost 75 of the 105 total lbs. I was on a high. I was confident… finally.
I had never ran a race in my life at this point, but somehow, my friends convinced me to sign up for the largest 10K in the world, the Peachtree Road Race.
It was hard to believe I could finish such a feat, because on day one of my journey, I could barely complete one lap around my old high school track. Just being transparent, my one and only lap ended up with tears filling my eyes, wondering if I was capable of doing this.
As I get ready, I look back at all the hard work I had put in. I looked back at the better decisions I made, like choosing water over soda, skipping happy hour with my co-workers so I could focus on my goals, and sticking to a workout routine. I missed my breakfast of Mr. Pibb and a Honeybun at first, but I knew I HAD to make a change.
It was just six months, but I remember the victories, both large and small. I remember the
big moment when I was in 40″ size pants. That means I was close to being out of the 40's, which was a huge deal.
"Tom! Tom! Dude! I'm in 40″ pants!" is what I practically yelled from the dressing room at JC Penny. Yes, I called my friend Tom from the dressing room.
It had been an amazing ride, and I wasn't even done yet.
As I arrive in Atlanta with my friends, I could feel the goosebumps. Everyone there had an insane amount of energy and people were already lining up the sidewalk cheering people on as we made our way to the starting line.
Because of my number, I had to go in a different group than my friends. I was nervous, excited and jacked up on adrenaline and caffeine. This was it. This was my big moment. This was my first event in my new life and my first race.
As I made my way through Atlanta, I simply just soaked it all in. I felt like everyone clapping and cheering was just for me. Alas, it was for the random guy handing out beer and donuts, but I still pretended it was for me.
"There's a random guy that hands out beer and donuts at 8 in the morning?"
Yes, there is. Now stay focused.
Before I knew it, I was approaching mile 6. Before this race, the most I had ran was about 3 miles. The adrenaline and happiness of where I was took me to this moment. Mile 6 was a huge turning point. I could stop running and decide to walk the rest of the race, which was about a quarter mile, or I could run the whole thing.
The decision was made.I was going to finish this thing strong. I knew it would be tough, but so was my journey so far. It's supposed to be tough.
The irony was that as I approached the finish line, tears filled my eyes yet again. In January, the tears were filled with doubt, fear and frustrations.
This time, they were packed full of confidence and victory. It was like all of my past frustrations and doubt were finally being released.
July 4th, 2003 – that was one of the biggest days of my life. It was a big turning point because that day taught me, "Anything is possible".
So here I am now, 105 lbs lighter and getting ready for yet another Peachtree Road Race. Honestly, July 3rd is like my second Christmas Eve. I'm like a nerd laying out my clothes the night before (including putting a pair of socks over my shoes – #truth).
So my question for you is, "What's Your Peachtree?" What is it that drives you? What is it that makes you put things into action?
For me, I had no choice but to succeed. I enrolled in the Peachtree in March that year (it fills up in just hours). I wasn't ready for it at that point, but I knew that would help me stay accountable.
It worked. So, how did I do it?
1. Surround yourself with family and friends for social support. If someone drags you down, cut them loose. I no longer joined social hour on Friday nights after work. It was basically beer and whining about how much life sucks anyway.
2. Celebrate each and every victory – whether it's large or small. Did you avoid eating a piece of cake? Tell your friends and brag. It's OK, and you should.
3. Set deadlines. I promised the world that I would drop 50 lbs by July 1st. I dropped 75 at
that point and you know what? I BRAGGED about it.
4. Understand it's going to be hard. I knew I would have to make sacrifices along the way. Whoever tells you that you can lose weight effortlessly is blowing smoke.
Sure, there's more to it than that. But this should be your foundation.
So figure out what exactly is your specific Peachtree Road Race.
In other words, pick your "big day" and go after it relentlessly with all your might.
To achieving YOUR big day,
Mikey, CTT