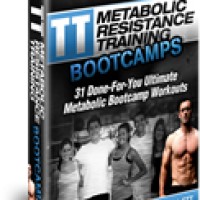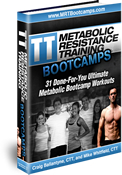 For the next couple of days, we're going to talk about using metabolic resistance training with your bootcamp workouts, as well as a couple of sample programs. It's going to be a lot of fun.
Whether you're a bootcamp coach OR someone who just wants minimum equipment workouts they can do at home, I'll reveal some secrets that Craig Ballantyne and I used to create over 60 Metabolic Resistance Training workouts.
With that being said, let's talk some program design. So grab a cup of coffee or tea and gather round in a big circle.
Metabolic Resistance Training (aka MRT) is definitely the hottest method to get the best results in the least amount of time. But what you probably face is using this method without the fancy equipment… like barbells, machines, battling ropes and more.
There's certainly nothing wrong with using those, but most bootcamp coaches (me for example), don't have access to this type of equipment and it's even MORE likely you don't have this stuff at home.
You want to use the infamous MRT method yourself or with your campers in order to help them and allow them to have more fun, but with minimum equipment.
So, Craig and I knew we would have to use a variety of techniques that you could use with the "ordinary" bodyweight exercises. One of those techniques, which is 90% method, is found our manual, TT MRT Bootcamp Workouts.
Let's use the pushup for example. This is when you perform a pushup, but instead of coming all the way back up, you only come back up about 90% and then go back down into the next rep.
This allows more tension on the muscle, making the pushup more challenging.
That's cool – sure.
But the part I'm most excited about is when we decided to add my favorite element – the metabolic finisher. This, as you know, is the "grand finale" of the workout and it's also when our creativity really came to life.  With the finisher, you can manipulate the set and rep scheme and use all kinds of crazy techniques like density circuits and supersets.
This is when you peform a superset or circuit as many times as possible in a certain amount of time. Each camper can go at their own pace, but the clock continues to tick. This also develops a "healthy competition". Good times.
You can also use a demanding move with very short rest periods…as in 10 seconds.
Alright, let's do one directly from the manual…
Warm-up
Do the following circuit twice, resting for 1 minute between circuits. Each exercise is to be performed for 20 seconds
Prisoner Lunge
Pushups
Prisoner Good-Morning
Mountain Climbers
MRT Superset
Do the following superset 3 times, resting for 1 minute after each superset. Each exercise is to be performed for 30 seconds.
Lunge Jumps
Eccentric Pushups (5 second lowering phase)
Big 7 Circuit
Do the following circuit 3 times, resting for 1 minute between circuits. Each exercise is to be performed for 30 seconds
Jump Squats or Box Jumps
Split Squat (30 secs ea leg)
*90% Close-Grip Pushups
Strap Row, Bodyweight Row or DB Row
Lateral Lunges (30 secs ea leg)
Cross Body Mountain Climbers
Run in Place
*Come back up only 90% – this puts more tension on the muscle
Finisher
Do the following as shown 4 times:  Kong exercise (20 secs), rest 10 secs
Cool-down, Stretching & Water Break – 10 minutes
That's a crazy exercise in the finisher, and I like that everyone can go at their own pace. Also, don't worry, all the photos and descriptions are in the manual.
That is just one of the 61 workouts from the TT MRT Bootcamp Workouts manual.
Yes, I DO realize the cover shows 31 workouts, and that was our original idea. But we both got out of control and we ended up writing 61 Done-For-You workouts.
61 done-for-you MRT workouts <== Special Offer
And here is how you benefit from being a loyal subscriber. I asked Craig B for a favor and he was cool enough to offer a $30 discount for this manual just for you, but only through tomorrow.
And if you do own a bootcamp business, you'll love the interview with bootcamp experts to get the latest marketing info to blow up your business.
These are the same workouts I've used with my bootcamps and I love the fact that you can just hit print and then go for it. This gave me more TIME, which you can have, too.
And even if you're not a bootcamp coach, you'll love that you get efficient, minimum equipment metabolic workouts that you can do at home.
So, this week, you can grab 61 Done-for-You MRT Bootcamp Workouts right here.
61 Done-For-You MRT Workouts <== Special Offer Expires tomorrow
Now it's time to figure out what workout we'll do for tomorrow (keep an eye on your inbox). I'm leaning on the "Super 6" workout that has a finisher with 6 seconds of rest… what?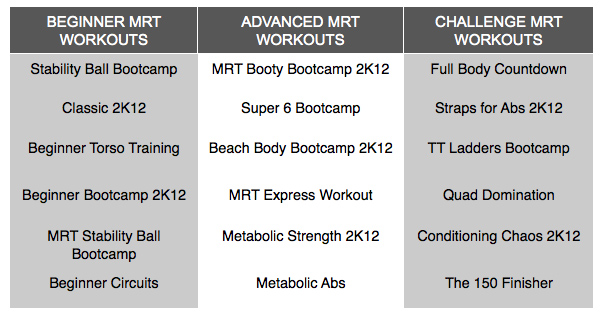 Boom goes the MRT dynamite? Well, sure. "Boom". Awesome.
May you never, EVER get bored with your workouts,
Mikey, CTT
P.S. Just so I'm clear – there are actually 61 workouts in the manual and not 31. We just had way too much fun writing them and testing them out apparently.
Select a workout and hit print here
Tags: bootcamp workouts, metabolic finisher, metabolic resistance training