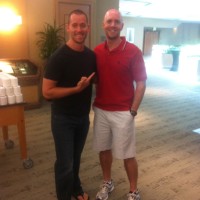 I like to shake things up a bit and sometimes get away from my total body workouts to an upper/lower split.
You know those lower body workouts that you never forget? The ones where it hurts to sit down in a chair… or better yet, just to breathe? Ha. Hilarious.
That's where my buddy Tyler comes in.
You see Tyler just launched a brand new lower body program that includes 45 Done-For-You lower body workouts. Now, these aren't the usual "lower body workouts" that you can get in a magazine. These are unique and definitely not boring… but brutally effective.
Plus, since Tyler wants nothing more then to share his training philosophy with you, he sent me a video of one of these workouts that you can try out today to give you that wobbly feeling in your lower body. By the way, Tyler and I are nerds because when we do meet a few times a year, we talk training. I really like what Tyler brings to the table – including a "Warrior" mindset. That's why he's called…
…. dramatic pause…
another dramatic pause….
"The Garage Warrior"
==> You can check out his program here (I think you should get his program just for the names alone)
But in the meantime, check out this "50/50" Lower Body Workout he made just for you:
Sounds like a good time for the legs – "warrior style".
And if you want to build a strong, powerful and functional lower body, you'll want to use these workouts:
==> Get the Warrior Lower Body System (Only $7 this week)
That's just a fraction of what it's worth.
Boom goes the best lower body workouts dynamite,
Mikey, CTT
Tags: lower body workouts, metabolic finishers, workout finishers