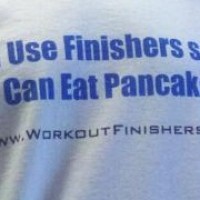 Today's the day. Call me a dork, but I'm pumped for today's meeting with over 30 other fitness pros, but more importantly… "The Shirt".
This is the bad boy I'm wearing to today's meeting. So, I'll be representing Awesome Sauce as I learn.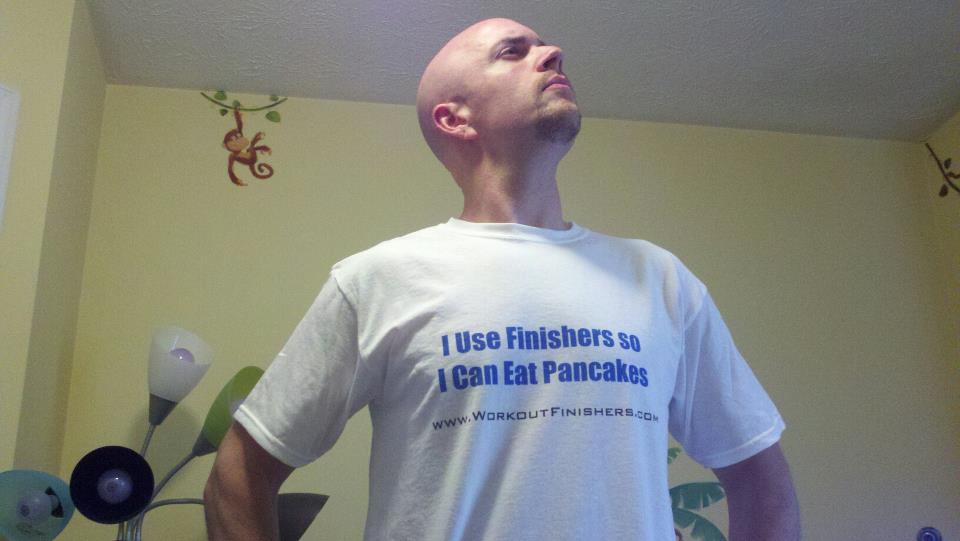 Boom goes the "That's my new favorite t-shirt" dynamite.
Now that is how you awkwardly enter this week's Q and A.
Q: Mike, do I have to eat more protein to lose more weight or do you suggest eating more overall?
A: Dude. What the fo'shazzle? (It's a trendy word I'm trying out). That makes NO sense. No matter what the gurus say, you need a caloric deficit to burn fat. Don't worry too much about protein. If you're like me (you wish… ha), you only need 70-120 grams of protein a day.
Q: What is the minimal cardio/HIIT amount of minutes necessary for fat loss within a five day per week program?
A: Diet. Sorry, but that's going to be the key. I had to discover that on my own as well as my clients. For HIIT, I wouldn't do any more than 4 days a week, no more than 2 days in a row.
If you want some crazier and zanier ones (ha… that totally rhymed by accident), click here. That post was a hit.
Q: Should finishers/metabolic workouts be followed with 15 minutes of moderate cardio in order to burn fatty acids that have been released?
A: If you enjoy it, you sure can. But it's absolutely not necessary. Quite honestly, if you do a finisher right, you won't be able to knock out cardio afterwards. You can get some more "dos and don'ts" with finishers by clicking here.
Q: HOLY SMOKES Mikey, you are overwhelmingly awesome. Do tell your secret sir.
A: I can tell your'e lying. Here's why – you know I totally made up that question. But it feels good, so I'm going with it.
Alright, that's hilarious (at least to me), but let's get serious for a minute. I want to tell you one of my favorite football stories, but even if you don't like football, the message will speak to you.
The date was November 8th, 1987. The St. Louis Cardinals were down 28-3 in the fourth quarter. All across America, people turned off their TVs and figured that the game was over.
But there was something deep inside the St. Louis team that only THEY knew about.
Everyone else had given up on them, including their opponent, the Tampa Bay Bucaneers.They thought they had the game in the bag. And even the Cards Fans thought that this game just wasn't meant to be.
Is that how you spell "Bucaneers"? <== said you.
I have no idea, and I don't care. But now you interrupted the drama. Thanks Jack.
The Cards didn't start well. In fact, they didn't do well at all entering the fourth quarter. But instead of having the "well, there's always next week" mentality, much like YOU, they decided to see what they have inside.
Like it or not, we are entering the 4th quarter of 2012. Maybe you started out wanting to lose 15 pounds… maybe 30. Right here, right now is your breaking point.
You're either going to throw in the towel and give up, losing 2012 and supposedly start fresh in 2013, or…
… you could have the most amazing 12 weeks of your life and end 2012 with a bang.
We are entering the last few months of 2012. That means if you lose 1-2 lbs on average of fat per week, you could be as much as 32 lbs lighter by Christmas. Now that's a cool Christmas gift to yourself. Something to think about.
You see, I NEED you. As a TT Trainer, I vowed to help 1 million people change their lives by 2020. YOU need to be a part of the Turbulence Training Mission.
Join the 15th TT Transformation Contest and you could even win $1000 of Craig Ballantyne's  money just for losing your belly fat, getting ripped abs, and sculpting your arms….
like these people (including my clients)
Can I count on you to deliver in the 4th quarter just like the Cardinals?
To your success,
Mikey, CTT
Check out the success stories and enter the contest by clicking here.