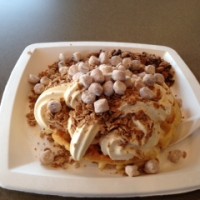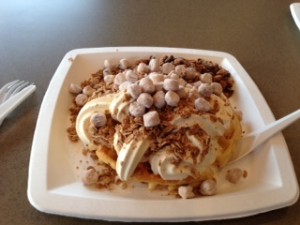 "Let's do this", I replied to Brian as we wrapped up the brutal workout filming yesterday. What I agreed to might surprise you.
Waffles and frozen yogurt <== Yeah, it gets its own line…that's how good it is.
There's a place called "FroYo" here in Lapeer Michigan. And they offer a waffle that you can put whatever you want on top of it.
We had been filming metabolic workouts since 8 that morning, so I knew it wouldn't really affect me. I seized the opportunity.
I'm just guessing because honestly, I'm not that great at counting calories. But I'm estimating it was about 2,116 calories.  Why that number? It just sounds cool.
Waffle. Cake batter frozen yogurt. Cookie dough pieces.  Incomplete sentences.
Yes, please.
Disclaimer: I don't always eat like this – old Mikey came out to play.
When it does come to nutrition, I do like to keep it simple.  That's why I don't count my calories. It's too tedious.
And neither does my friend Nick Pineault, who I got to meet in Denver, CO about 6 weeks ago. Even when I felt I had run out of things to talk about regarding food, I still asked him questions just to hear his cool Canadian/French accent.
It's wickedly cool. So, I asked him about the one time he freaked out. And this is his story. He'll even tell you th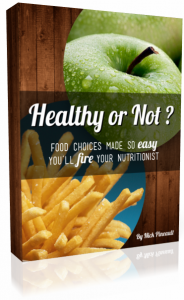 e # 1 reason people fail to lose weight.
But there is a catch – you have to read this in a cool French/Canadian accent.
The # 1 Reason People Fail to Lose Weight Nick Pineault, Author of Healthy or Not
I was freaking out. Literally.
And it didn't feel good at all.
I had just finished another documentary about our food supply, and just discovered that everything I had learned in the media was DEAD WRONG.
My entire world had just shifted around.
Artificial sweeteners caused cancer instead of making me lean. My favorite breakfast cereals were the worst breakfast I could ever eat. The fruits and veggies I had in my plate were sprayed with pesticides, herbicides and other nasty chemicals. GMOs were lurking somewhere in my pantry, waiting to get me for good.
"Every food around is bad. What the %$/? can I eat?"
"I guess I'll just drink water…"
I was satisfied with this for a couple hours, until I read an article about tap water and how it now contains traces of birth control pills and aspartame that's not filtered at the water treatment plant.
I was freaking out. That was the real problem.
This "freaking-out-ness" is the #1 reason people fail to lose weight, change their eating habits and achieve any health and fitness goal.
Food around us is screwed up. That's a fact.
Our food supply is "contaminated" with bad stuff, and corporations won't stop making money just to make you healthier anytime soon.
How you react to this sad reality will dictate how lean or how healthy you will ever get:
Option #1: Freak out. Try to change every single food you eat overnight, and develop a really unhealthy relationship with food where you consider "bad food" evil, and feel guilty every time you eat something that's "forbidden".
Option #2: Understand that all these chemicals and nasty foods will not only NEVER kill you instantly, but that eating them do not define who you are.
Then, follow this blueprint to a "freak-out-free" life:
A) Get educated. Stop trusting everything you hear from the media, from me, or from anyone else. In my very biased opinion, Healthy or Not is the best resource for that.
B) Get real. You can't change everything all at once. Focus on changing 1 thing every month, instead of throwing away 95% of what's in your fridge and ending up feeling overwhelmed.
C) Get cooking. Stop focusing on how you can avoid this weekly night out with your friends. You can choose to make healthier choices at restaurant and drink one less beer, but nothing will make as much of a difference as what you eat during the week – 80% of the time.
Focus on changing your habits. Grab a new cookbook, and try things out. You'll screw up. You'll waste food. You'll feel like this is taking all your time and energy. But you'll get around it, and will start to like it a lot when people around you start to compliment you about your healthy and tasty meals.
While you're at it, try to enjoy the process. Be curious. Be proud that you take action.
Keep it simple, healthy, and "freak-out-free".  Nick
Simplify your nutrition forever here
Tags: fat loss nutrition, fat loss nutrition plan, weight loss