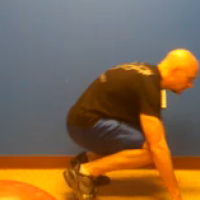 There's about 3 weeks left in 2012 and this is by far the craziest year yet in my 38 years.
It's flown by so fast, I completely forgot that I have an Ab Finisher in the "Men's Health Big Book: Getting Abs" releasing on December 24th.
Ha, my wife THOUGHT she was done shopping.
In fact, it was this time last year, that I was struggling while managing a gym, handling my bootcamps as well as balancing my one-on-one clients and small groups.
But more importantly, my wife was a teacher, while my son went to a daycare every day.
But we both wanted something more. We wanted my wife to be a stay-at-home Mom, but I knew I couldn't do it doing what I was doing.
I loved what I did and I certainly enjoyed training people, but I felt that there was more to it and I wasn't making as big of an impact as I could.
I was a trainer who had lost 105 lbs and I knew I could connect with so many people who are struggling to lose weight, but I didn't have an avenue.
One click changed that AND my life.
I became a part of something bigger and bolder, helping 1,000,000 people transform their lives. I jumped in head first and it has truly changed my life.
It was the Turbulence Training Certification
Because of the client attraction tools we receive each month from Craig, I grew my summer bootcamps from 5 people to 20 in my 6 am class (yes, during the summer) in just a matter of a few weeks.
Later that summer, I had a series of articles posted on Craig Ballantyne's site (one of the many perks you get as a TT trainer) and due to the response I was inspired to put together my infamous Workout Finishers program.
In fact, those articles were what "put me on the map". In September of 2011, I had a non-existent online business and my mission of never, EVER letting you get bored of your workouts was only shared with my clients at my gym.
Because of that one click, my message has gotten to the masses, but more importantly, my wife is now a stay-at-home Mom.
I was the fourth certified TT Trainer and I've been TT certified since the spring of 2011. I still remember clicking and becoming a part of the 1 million mission. My life hasn't been the same since.
Join me in the one million mission
I challenge you to become a part of something bigger and bolder.  There's nothing like it and you'll get everything you need to design a career on your own terms.
Imagine waking up and being excited to start your day like I am.
Maybe you're looking to triple your bootcamp memberships like my friend and certified TT Trainer Brian Kalakay did in just a matter of weeks, all while becoming known for his online program, TT Bootcamp Games.
Or perhaps you're just struggling on what to do with your life as a coach. You want to make a difference, but you just don't have the avenue to do so.
This is more than a certification. That's why my mentor and coach Craig Ballantyne calls it a mission.
Craig and I talked about finishers while we filmed some follow-along videos. In fact, he made a good point about one of them.
He said that if you didn't have time to work out or you're on the road needing a quick "metabolic boost", the infamous Burpee/Chin-up Combo Finisher is just the ticket.
So, as promised, here is Craig Ballantyne's favorite finisher. And if you are tight on time or want a fast off day workout…
… This is the #1 Exercise You'll Ever Need

Do a burpee, but once you bring your feet back in, stand up and perform a chin-up.
Burpee/Chin-up Combo Countdown Finsher/Workout
BurpeeChin-up Combo (8), rest 40 secs Burpee/Chin-up Combo (7), rest 40 secs Burpee/Chin-up Combo (6), rest 30 secs Burpee/Chin-up Combo (5), rest 30 secs Burpee/Chin-up Combo (4), rest 20 secs Burpee/Chin-up Combo (3), rest 20 secs Burpee/Chin-up Combo (2), rest 10 secs Burpee/Chin-up Combo (1)
Bonus (optional) – 40 Bodyweight Squats <== Only if you're feeling crazy
Awesome sauce. Do that finisher/workout and then join me in the 1 million mission. We NEED you.
Discover how the TT Certification is different here
Mikey, CTT
Tags: ab workouts, Turbulence trai, Turbulence Trainer Certification