PANCAKES!!!
If  you have any trouble downloading your program, please contact us at support@workoutfinishers.com
Who likes pancakes more than anyone in the world?
Mikey <== This guy
I want to share the joy of pancakes with you. I want to thank you for being a reader. I couldn't think of another way to thank you other than create these MONSTER workouts and finishers followed by instructions to eat pancakes after each workout. I'm weird like that.
Blah, blah blah… give me the workouts!… right? Cool, here you go…
CLICK HERE to download the Pancake Finishers Workout Program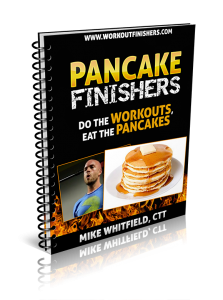 For your convenience, the ebook has been published for viewing in Adobe Acrobat Reader (PDF), which is the easiest way to view the material.
You Must have Adobe Acrobat Reader in order to view the ebook. If you do not have Adobe Acrobat Reader, you can download it free by clicking here.