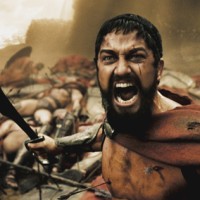 It's been months. And man did it feel good… my wife and I finally went on a "date". It was her Mother's Day gift as I set up the babysitters (thanks Mom and Dad).
Mikey <== This guy received 417 Brownie Points… BOOM.
Anyway, we saw "Olympus Has Fallen" and it was FANTASTIC. I'm a big fan of Gerard Butler. Before the movie, we had some Thai. It was OK, but I would have liked it better if it was hotter. I dig spicy foods.
Then, off a whim, we headed over to a new place called "Cupcakery". They sold cupcakes.
I know right? I was shocked, too. I expected it to be a whole foods market and then BAM!… cupcakes. Oh well, we were there anyway 🙂
Now these weren't your every day cupcakes, either. I have a monster appetite, and just one of these bad boys were so rich and filling, that I didn't want to get a second one. It was a great reward treat.
So, it got me thinking… "Next week, I want to discuss the crazy scheme of strength and conditioning supersets. How will I incorporate cupcakes into this… and should I? It's not normal and I'll encourage people to eat cupcakes, which is wrong." So, I decided to abruptly end this little story. Weird.
So, what is this "strength and conditioning" superset scheme? It's one of the crazy methods I like to use with my coaching clients. It still gets you amazing results, but I'll be the first to admit that it's not your programming of choice if your'e looking to get wickedly strong. The reason is because after you do a strength move, you'll immediately move into a conditioning move. Even though you'll have a recovery period, you won't be fully recovered to lift as heavy.
Now if you're looking to get leaner – it's a fun but effective approach. That's the idea… you can burn fat and have fun at the same time.
And based on the survey, you asked for more FULL workouts, so let's rock one. In fact, let's use this crazy strength and finisher superset scheme. Let the games begin…
Warm-up
Prisoner Lunge (8/side)
T Pushups (5/side)
Bodyweight Squat (15)
Plank (20 secs)
Rest 30 seconds and repeat 1 more time
1A) DB Bulgarian Split Squat (8/side)
1B) Bench Vault (15/side)
Rest 1 minute and repeat 2 more times
Bench Vault
Place both hands on the sides of a bench, with your abs braced
In one motion, vault over the bench, driving your arms down and pulling your legs, knees and butt toward the ceiling.
Repeat in the opposite direction.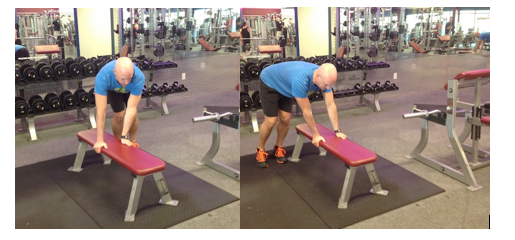 2A) DB Row (8/side)
2B) Burpee (12)
Rest 1 minute and repeat 2 more times
3A) DB Incline Chest Press (10)
3B) KB or DB Swings (25)
Rest 1 minute and repeat 2 more times
4A) DB Rear Lateral Raise (12)
4B) Box Jumps (10)
Rest 1 minute and repeat 2 more times
Now during this workout, you'll be completing your "conditioning" with every superset. So, that's why there isn't really a "finisher". But if you're feeling crazy (or if you had two cupcakes), you can certainly plug a finisher after this workout. You can also add more of a challenge by incorporating 30-second rest periods instead of 1 minute. But you'll quickly realize you may not be able to lift as heavy for your strength sets when doing this… just a heads up.
Tomorrow, I'll tell you how you can do this approach with just bodyweight (yes, it can be done… just takes a little creativity)…
If you need a finisher, there are plenty right here.
Later taters,
Mikey, CTT