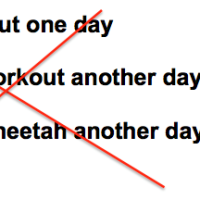 Even if you're cranking out rep after rep and have made great dietary changes, you won't make any progress if you're doing this.
Program hopping <= Silliness. Pure Silliness.
Let me ask you a tough question… if you're jumping from one program to another, how do you know if…
– you're getting stronger?
– you're getting faster?
– you're becoming better conditioned?
These 3 things may not sound like a big deal, but if you're improving just ONE of these, you could easily burn fat faster and easier.
Improve on all 3? Dude… you'll really release the fat-burning hounds…
Yet, most people are just about how much you sweat and are looking for the next butt-kicker guaranteed to make your shirt wet.
Listen – I can walk out to my mailbox in Georgia and come back and my shirt is wet. That doesn't mean I had an amazing workout. It means it's 95 with 100% humidity.
And… you can do something about this "program-hopping" addiction you have. No more of this…
"Today, I'll do this and combine that and that and then do some KB Swings later because KB Swings are cool". 
Pick a program and stick to it – 4 weeks.
It's how I roll and it's how my most successful private clients rolled.
No randomness.
No guessing what they will lift.
No TRX workout one day and then a KB workout the next day and then racing a cheetah the next day.
This week, go in with a specific plan and next week, aim to get better. Increase your resistance to 1-2 exercises. Try to do more rounds. Try to do more reps… SOMETHING.
Because when you get better, you get leaner… that's why.
Need some inspiration? Take a look at my workout from Friday…
KB Swings (6)
KB Clean (6/side)
KB Push Press (6/side)
KB Snatch (6/side)
Do as many rounds as possible in 20 minutes
The previous Friday, I did this using 5 reps. This week I'll be in Vegas, so I don't know if there's a gym with KBs. If there is, I'm aiming for 7 reps and doing just as many rounds.
If caffeinated… maybe even more 😉
Quit hopping, start burning,
Mikey Whitfield, Master CTT
PS – Later this week, I'll share with you how to set up a 10-minute workout if you're really busy (yes, you CAN get results with 10-min workouts… I'll reveal how).
In the meantime, join me here for today's Q & A. Drop a "like" so you see when I start it.