After a long day of meetings in San Diego, my buddies Travis Stoetzel (pronounced like pretzel by the way) and CJ Easter decided to do a workout together.  Now these two guys are youngsters compared to me.  Travis is the hardcore and aggressive type, but more importantly, I love his mindset when it comes to coaching.  He doesn't hold back and he's not politically correct.  And CJ is brilliant when it comes to getting people faster.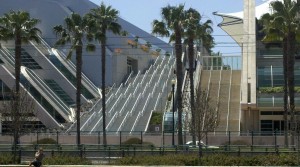 I knew I was in for a doozy when I agreed to join them, starting at the stairs across the street from the hotel at the convention center.  This is what we did to start off the festivities (and it was ridiculous… not sure why I agreed to do it):
Stair Sprints
1 flight followed by 10 pushups
2 flights followed by 20 pushups
3 flights followed by 30 pushups
4 flights followed by 40 pushups
Awesome… we were then warmed up.
We then moseyed on over to a local park, which was beautiful by the way, and we did this crazy circuit 3 times:
1A) Squat Thrusters with a 50-60 lb rock CJ grabbed by the water (10)
1B) Ring Pullups (10)
1C) About a 100 yard sprint
I'll be honest – the stairs and pushups had me worn out, but I did my best.  I sometimes only did 6-8 reps.
And for kicks and giggles, we ended with 3 all-out 30-yard sprints.  Good times.
This took me well out of my comfort zone, which is exactly what I needed.  Don't get me wrong, I work out hard when I train, but it's one of two places – the gym I train clients at, or the gym I'm a member of right down the street from my house.  I hardly ever train outside unless I'm doing sprints on my old  high school track and sometimes I hit the bleachers there.
If it was just me training that day, I would have called it a day after the stairs and pushups.  But Travis and CJ brought the best out of me, challenging me to rise above my own expectations.  That's what coaches do.  They both certainly practice what they preach.
Like I said, it was well out of my comfort zone training with these guys, but I don't regret it at all.  I embrace it.  Honestly, I enjoy being uncomfortable because that is where the magic happens.  I certainly didn't feel comfortable presenting at the Fitness Business Summit in March, but I knew it would help other trainers bring the best out of their clients and campers, so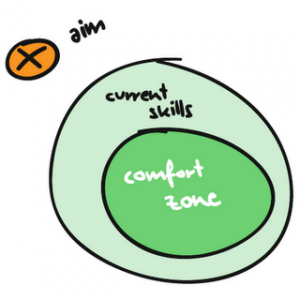 I had to do it.  I wanted to make an impact on the world.
So, I dare you to get out of your comfort zone this week.  Maybe you're comfortable with eating in front of the TV for dinner.  Maybe you're comfortable walking for exercise instead of using metabolic resistance training.  Perhaps you are used to lifting a certain amount of weight for 8 reps for the last 3 months.
Change that… now.
Anyway, after the workout, I felt rejuvenated and energized, yet my body was tired… as if I performed the perfect finisher.  Afterwards, I joined Travis for dinner outside on a crisp, but not too cool, San Diego night out.  That's when we talked about different things, including a project we're releasing next week (yes, do get excited because it's going to be awesome).
We finally ended up talking about finishers (of course), and we mentioned the Hardcore 250 Finisher.  He had a crazy idea of letting you try it and get free stuff.  I thought it was brilliant, too.
But let me warn you – Travis is aggressive, so if you're nervous about working really hard, than this finisher is not for you.  It's one of the longer "finishers", so it's an amazing way to replace intervals, or you can use it as a stand-alone workout.
Either way, you're going to break a sweat.
So, give it a shot and check out the challenge… oh yeah, and good luck.
Click here to win free stuff ===> Hardcore 250 Challenge
Talk to you soon,
Mikey, CTT