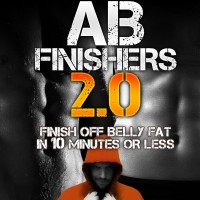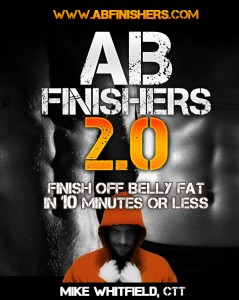 Living in Georgia, the weather this time of year is awesome. It's not too cold, but just the right "crisp", cool air.
I live about 8 minutes from my old high school and sometimes on Saturday mornings, I'll head over, warm up on the track and then do a sprint/ab workout on the very grass field I used to march on as the drum line captain a loooong time ago.
A sprint/abs hybrid conditioning workout is an AWESOME 1-2 punch to get your abs stronger and keep the holiday fat at bay.
When structured right, your "recovery" between sprints are the best ab moves… so you'll do more in less time.
"Mikey, can you show me a Sprint/Abs Hybrid"?
I sure can make-believe person. But first, (hang on there tiger), I have an announcement to make….
We have FIVE winners of the Ab Finishers 2.0 System!
I know, I know. It was supposed to be 3, but after reading hours of inspiring stories over and over, I couldn't select just three.
I am so moved by your stories and it makes getting up at 4AM every day very worth it.
With that being said, congratulations to… (drumroll here)…
# 1 – Marie – with her 13 very inspiring reasons she needed Ab Finishers 2.0
# 2 – Desiree H – a fitness trainer herself, realizing she needed to make a change to help herself
# 3 – Yesenia – already losing a 1-1/2 inches from the waist, wants to continue the success
# 4 – Liza – very inspiring story of coming back from an injury with a vengeance
# 5 – Rambo Bujan – This guy is amazing… already lost 100 pounds and wants to continue the journey
You have been emailed the details on getting access and I hope you put the Ab Finishers to good use.
Keep pushing… and congrats again!
Now, about that Sprint/Ab Hybrid.
Warm-up
Prisoner Squat (10) T Pushups (4/side) 1-Leg RDL (10/side) Leg Swings (15/side)
Do the above circuit twice, resting for 30 seconds between circuits.  Then, do sprint specific warm-ups (do this circuit below ONCE)…
Sprint 30 yards at 50% intensity, rest 30 seconds Sprint 30 yards at 70% intensity, rest 30 seconds Sprint 30 yards at 80% intensity, rest 2 minutes
The Sprint/Abs Hybrid
Do the following circuit as many time as possible in 12 minutes, resting when needed. Once the 12 minutes are up, rest 1 minute and then move into the finisher…
Sprint or Hill Sprint (30 yards)
Bodysaw (10)
Shuttle Sprint (use a space of about 10 yards) (back and forth 5X)
Pushup X-Body Mountain Climber Combo (10)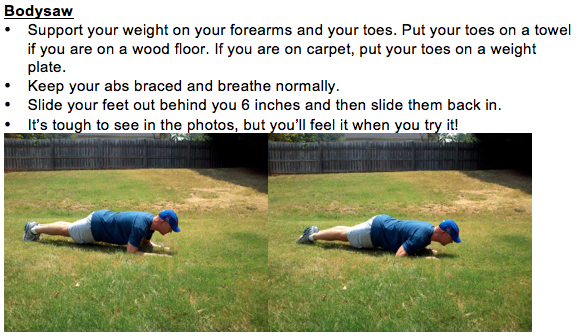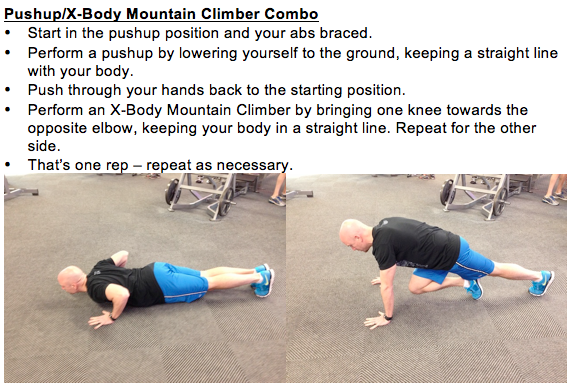 Finisher – ONE time through (rest as needed)
50-yard sprint, rest 30 seconds
Mountain Climbers (slow pace) (25/side)
40-yard sprint, rest 30 seconds
Mountain Climbers (slow pace) (12/side)
30-yard sprint, rest 30 seconds
Mountain Climbers (slow pace) (6/side)
Total Body Extension (20)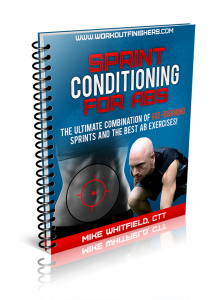 Now that's how to train like an athlete. Who says you can't ignite your inner beast and get a wickedly strong core at the same time?
Mikey <= Not this guy
Sprints and the best bodyweight ab moves are like sizzurp and pancakes.
Have fun in the sun,
Mikey, CTT