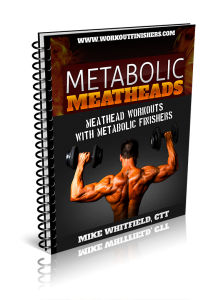 I'm looking forward to today's workout. It's the ultimate Metabolic Smoothie of 10 exercises set up in a circuit. It should be borderline epic because of two things:
1. I'm fasting today
2. It's a total body workout and last week when I did this program for the first time, my shirt was soaked and I left the gym invigorated.
Now that I've done the workout once already, I'm planning on dominating it this week. After I'm done with this program, I'm going to look at doing a meathead workout. I've been on a total body program now for several months and love them. But who doesn't love meathead style workouts, too?
For instance, when I logged onto Facebook yesterday morning, I saw this on my wall:
"Very proud of myself. I was really tired this morning after work, but I went to the gym & still managed to deadlift more than my bodyweight! Woohoo!"
That's one of my coaching clients… and yeah, she's a girl.
Girls that deadlift ROCK.
She's really fun to work with because she's a meathead herself, and she's dedicated. That's why she won $500 in the last transformation contest. She specifically requested a meathead style workout, which actually inspired my newest program, Metabolic Meatheads.
It's my first 4-day program I've put together for the interwebz. Ha… interwebz. Fun wordz.
But Should I Do an Upper/Lower Split or a Total Body Program?
Here's the deal – the answer is "Yes". You can get results from either one. Here is how you can approach it:
A) If you're wanting to focus on gaining muscle while losing fat, than an upper/lower split has worked best in my experience with clients.
B) If you're wanting to focus on fat loss while gaining muscle, than either one can work, but with my clients, total body workouts have just a slight advantage (but they have done it with upper/lower splits as well… just a tad more success with total body workouts.
C) If your focus is strictly fat loss – than total body workouts are where it's at.
But the thing to keep in mind is that total body workouts can be quite taxing to the nervous system, so it's always good to switch to an upper/lower split program to avoid nervous system burnout, and you can do that with Metabolic Meatheads
Metabolic Meatheads <== Last Day
I usually like to do total body workouts for 12-16 weeks, followed by an upper/lower split for 4 weeks. But for an added and refreshing challenge, I also plug in upper/lower focused finishers. It's good times yo… that's why.
First, there's the lower body finisher after Workout A using the hot DENSITY method, where you do as many rounds as possible in a certain amount of time.
I've been using this method more and more with my own workouts and with my clients and they love it. It's addicting to challenge yourself and see if you can beat your reps week after week.
Then after the upper body workout in Workout B in Metabolic Meatheads, there's an upper
body finisher including high rep DB rows and more.
For workout C, you start off the fun with Deadlifts, using different reps with each set. You will need some caffeine to get through that workout followed by the intense lower body finisher.
Finally, with Workout D, there's the fun and unique arm superset with a grand finale total body finisher (it's the only total body finisher in the manual… after all, you have to end the week with a bang)
So for your next program, be a meathead. No wait, be metabolic meathead.
Get the Metabolic Meatheads as a Bonus Here <== Last Day
May you never, EVER get bored with your workouts,
Mikey, CTT
Tags: gain muscle and lose fat at the same time, metabolic finishers, workout finishers