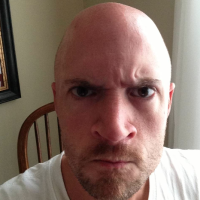 Look at me, look at me! I'm like 105 pounds lighter and I'm EVER so special….
… Well WHOOPTIE FREAKIN' DOOOO!
Hey, this is Sargent Whitfield and I took over Mikey's email account and he knows it, too. He's tied up with a plate of pancakes drenched in syrup sitting right in front of him. I'm Jack Bauer'ing his sorry butt.
Who's your Aunt Jemima now punk? LOLzzzz
I'm Mikey's sarcastic angry alter ego. Usually I only come out when there's a lot of traffic, the gym is overly crowded, or we run out of pancake mix in the house.
But today, I'm really ticked off. I hear your excuses already…
"Well school is out and I buy the Little Debbie snacks for the kids… that's why they are in the house".
Well, that's a good thing. I was going to call DEFAX… "HEY!  I know this one Mama that ain't givin' her kid fake processed shiznik… made their kid eat the applezz and stuff. ABUSE, ABUSE I SAY!".
Today, you're going to remove all the crap in the house.  And don't give me the "But that's wasting food. I'm scared.  Hold me". It's crap. Crap goes into the trash. If you eat the crap, you'll get fat. Fat is crap. Eat crap = look like crap. You don't  have to have a six pack, but c'mon, be well enough to play with your kids or go up the stairs without puffing.
Nutrition… CHECK.
Now your workouts? If you ain't using a combination of metabolic resistance training, metabolic density training, metabolic conditioning and metabolic density training, you're missing the boat. YOU HAVE FAILED.
Oh and definitely the finishers (In fact, I've created some of those myself and Mikey didn't even know it.)
And through Memorial Day, I hacked into Mikey's site and put up one of those fancy schmancy timers along with…
Over 300 finishers and 24 weeks of workouts HERE
"But finishers are hard… I'd rather walk on the treadmill and watch episodes of 'Friends'" … Really?? Quit being an idiot. It's the same episode every time. Ross and Rachel get in a fight and Chandler is sarcastic, while Phoebe does something really weird and Monica cleans something.
Plus, two of my most evil plans ever are included….
the NEW Extreme Fat Loss Finishers 2.0 PLUS the NEW Interval Finishers 2.0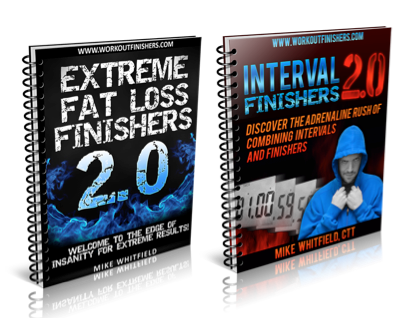 In the Extreme Fat Loss Finishers, my printer broke down and I beat the crap out of it, got out a notebook and wrote these bad boys. Careful, I was really pissed.  Check out one here:
Jump Squat (10) Burpee/Chin-up Combo OR Burpee/Spiderman Pushup Combo (10) Shuttle Sprint (Back and Forth 10 times) Spiderman Climb (10/side)
Rest 20 seconds and repeat 3 more times
Get all the Extreme Fat Loss Finishers 2.0 here
"Am I going to sweat during these workouts Sargent?". If you don't, you're a loser. Winners sweat. Losers go to Zumba.  Pansy.
You'll get my original Workout Finishers 1.0 (the chaos that started the Finishers frenzy), plus …
33 Ab Finishers
Bodyweight Chaos Finishers
Strap Finishers (using a TRX or any straps)
and much more…
Plus, you'll get these full metabolic workouts and you can use the finishers in the program or choose a finisher from any of the finisher manuals….
Metabolic City
Finisher Chaos
Metabolic Meatheads
Crank 2.0
So my question is this…
What's your major malfunction numnuts? What's your hesitation? This is the greatest Finishers offer EVER. And it expires Memorial Day… no extensions.
Extensions are for LOSERS.
I'm going to go beat up a tree for no reason,
Sargent Whitfield
P.S. This page gets shut down on Monday
And the bonuses do, too.
The offer and bonuses of my BEST programs of all time will be removed just like this plate of pancakes in front of Mikey. I'm getting a fork right now…
P.P.S. I don't know what to type here. But I want to yell something cool. But I can't think of anything. So I'll just put another one of those blue lines of text where you click and it does something cool like…
You're dismissed… wuss.