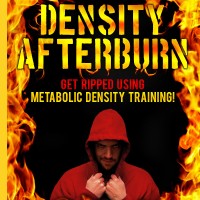 My voice is just about gone, but that doesn't mean you can't get your questions answered.
I'm here in Lapeer, MI to take my training approach to a new level (I heard a rumor that this fat loss manual is about 85 pages long).
And yesterday, I did some YouTube videos as well as some coaching videos on my full workout programs, Metabolic Shock and Density Afterburn (Finisher Freak members will be getting access to those videos soon).
Alright, let's get your questions answered so you can end this week with a bang (plus I just wanted to check in with you and make sure you're not slacking)…
Q: One finisher is like a whole workout for me. Is this normal?  – Alejandro
A
: If you're new to finishers, they can rock your world, but it can be overwhelming. So, here is how you can modify ANY finisher:
You can reduce the volume (do less rounds or less reps)
You can increase the rest periods
Don't be afraid to substitute exercises (regular pushups for Spiderman pushups, etc.)
Here's a link to exercise substitutions (including bodyweight if you don't have access to some equipment)
Q: Why cardio AFTER a workout? – Cynthia
A:
Before I go on here – Cynthia is referring to intervals 🙂   Researchers have found that doing intervals BEFORE your workout will make your strength performance suffer. However, your interval session typically won't suffer when doing them AFTER your strength session.
Q: When I am into an 4 minute exercise, and the clock rings and I just have started the last set. Should I finish the sett or quit the exercise all together? – Jorgen
A:
Halt right where you're at. Then next time, see if you can squeeze in a few more reps. Always aim to do a little better every time.
 Q: What's the best way to eat healthy when you drive a truck? – David
A:
This goes for anyone traveling, but most gas stations, etc. get a bad rap, but I've seen some step up and offer nuts and fruits. So you can get almonds, bananas, apples, etc.  Back when I had a job of delivering coupons as I was trying to become a trainer, I had to drive around town all day long. I brought a shaker bottle with protein powder in it and then I would stop at a gas station and add cold water. That's how you can get some protein, too.
Q: You're on a last minute business trip and realize the hotel gym sucks.  All you have is an open floor in your hotel room. What do you do?
A: 
Jump Squats (with a 1-sec hold at the bottom), decline pushups, walking lunges and spiderman climb… that's my go-to when I'm on the road with no equipment.   Bonus: Here's a fast no-equipment workout if you are ever on the road…   Jump Squat (6) Decline Pushups (2 reps short of failure) Walking Lunges or Alternating Lunges (12/side) Spiderman Climb (10/side)   Rest 30 seconds and repeat 3 more times for a total of 4 circuits.   Simple. Fast. Effective. Incomplete. Sentences.   Need a simple but fast finisher?- knock out 100 jumping jacks
Q: Where do you get your fat loss research? – Frank
A: I get new fat loss research every month and yes, I'm like a kid at Christmas when I get it in the mail. Plus, I get fat loss training interviews and more.
Here's where you can get advanced fat loss research <= Best resource for trainers
Q: How do substitute a jump squat for an exercise that I can still do and get the same explosiveness but less impact? – Frank (yes, a different Frank)
A:
You can replace jump squats with box or bench jumps. So, you can still "explode" up, but because you're landing at a higher angle, there's less impact.
Bonus tip => Land like a ninja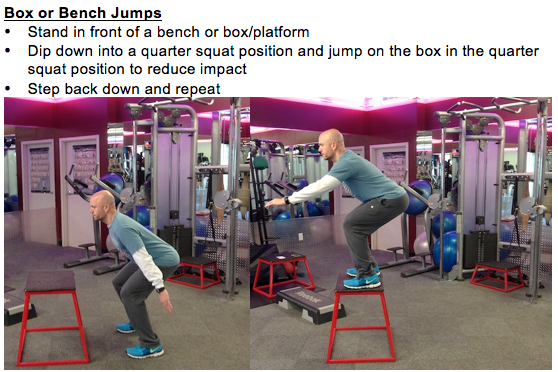 Q: Mikey, what's the easiest way to calculate how much protein you should be consuming? – Julianna
A:
I keep it simple… pretty much aim for around 70-120g per day. For the average folks, that's plenty of protein.
Q: What weights should I do with my finishers? – Catherine
A:
Great question – and I'll be doing an article on this in the future.  In a nutshell, this is how to approach it:   For your MAIN strength session, choose a weight that allows you to complete 1 rep MORE than prescribed. So if you're doing a DB Row for 8 reps, choose a weight that you can do with perfect form for 9 reps (no need to train to failure)   For your finishers – I like to choose a weight that you can do for around 5 reps more than prescribed because I like to use a fast tempo (but under control) with those moves. You'll hit different muscle fibers using this approach. 
Q: Mikey, did you graduate from Awesome University? I see that you have have an "awesome aurora" around you. – Imaginary Person
A:
Thank you imaginary person. That place doesn't exist, except in my head. And you know what? I just gave myself a diploma from there. Thanks for the inspiration.
Whew… and that, ladies and gentlemen, concludes this week's Q & A.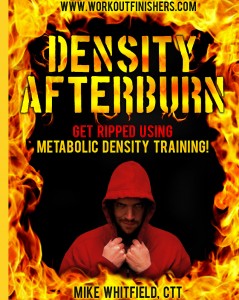 Alright, time to get my learning hat on and give the Finisher Freak Inner Circle their Finisher Challenge of the Week…
Mikey, CTT
PS – Here's a fantastic fat loss smoothie. The thing is, most people won't drink it because it's not sugar-coated with fillers and people are looking for the easy way…
Ingredients: Consistency, Discipline, Attitude and Planning.
Instructions: Drink on a daily basis
Tags: bodyweight, finishers, training on the go