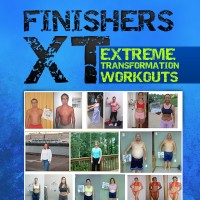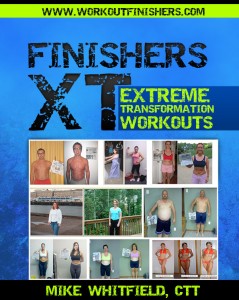 I'll be honest with you… I've been doing 30-minute workouts with my clients for years. That and finishers have been staples with my programs.
For one thing, if you're doing it right, your form on just about any exercise will get jacked after 30 minutes anyway.
And you already know the key to success (this is the ONE thing common in all my clients' success) is consistency.
C'mon… you can give yourself 90 minutes a week.
That is exactly how I structured my NEW programs, Metabolic Shock 2.0 and Finishers XT, the bonus FULL workout programs that will be included with Ab Finishers 2.0.
But get this… you'll have ZERO-equipment options for both workouts, too.
Here's my bottle of awesome sauce that I mix into the perfect 30-minute workout that focuses on the abs and it's 3 things…
Metabolic Resistance Training (MRT)
Metabolic Conditioning (MCT)
Ab Finisher
So for MRT, you'll use big movements and go moderately heavy. In Finishers XT, your first two exercises go like this…
1A)
DB Bulgarian Split Squat (6/side) or Bodyweight Bulgarian Split Squat 1-1/2 rep style (6/side)
1B)
DB Chest Press (5) or Pushups with a 5-sec lowering phase (5) (this makes the pushup harder)
Yes, we're doing things a little different by going a little heavier than the standard 8 reps… that's why "XT" stands for "Xtreme Transformation" 😉
So you'll do around 10-12 minutes of MRT…
Then, it's time to move into MCT (conditioning) like KB/DB Swings (with the option of Total Body Extensions), Spiderman Climbs, etc.
And finally, it's time for the Ab Finisher. Let's replace the finisher here from one found inside Ab Finishers 2.0!
"Push the Tempo" from Ab Finishers 2.0 (Ladder Section)
Do the following circuit as many times as possible in 5 minutes, resting only when needed. In the first circuit, you'll perform 3 reps of each exercise. In the next circuit, you'll perform 2 reps.
Continue in this fashion until you complete 1 rep of each exercise.  Then start BACK at 3 reps of each exercise and continue until the 5 minutes are up.
Goblet Squat or Bodyweight Squat (3…1)
Offset Pushup (3/side…1/side)
Stability Ball or Strap Jackknife or *Pushup/X-Body Mountain Climber Combo (3…1)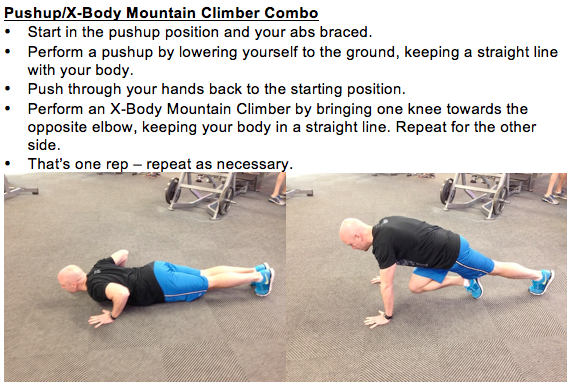 Whew… that's a nasty combination of a ladder and the hot density method there!
And I gave you a no-equipment option for that, too… so you can do that in Aunt Gertrude's guest bathroom.
So, to wrap it up… the PERFECT 30-minute workout template looks like this:
MRT (10-12 minutes)
MCT (10-12 minutes)
Ab Finisher (3-10 minutes)
But then there's the strength/conditioning supersets… that's a whole different story (and it's also found in Finishers XT) …
Zero-equipment options rule,
Mikey, CTT
PS – You have until tomorrow at 5pm EST to win a FREE copy of the entire Ab Finishers 2.0 system. That's right… a FREE copy.
All you have to do is leave a comment here. It's that easy.