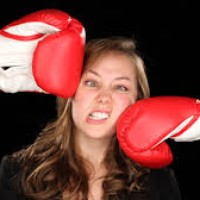 What happens when you combine interval training and finishers?
Do you become a Jedi? 
Will you suddenly speak a new language? 
Seriously… what happens?
It's an advanced measure, but you'll jack up your metabolism and punch fat in the face.
It's a great solution if you're on a plateau or need a kick-start but lack a lot of time. I've got a interval finisher ready to rock for you today.
You ready?
Let's punch fat in the face…
"The Interval Super 6" Interval Finisher
You can use ANY cardio equipment for your cardio activity (spin bike, treadmill, rowing machine, elliptical, etc.)
On a scale of 1 – 10:
1 = Standing still
5 = "steady state" cardio pace
10 = Running from leprechauns with bazookas
Your rest period is your transition time for your cardio activity to the exercise shown.
5-minute warm-up (5/10)
Do the following circuit ONE time:
Do any cardiovascular activity that you can sustain for 2 minutes
Burpee/Spiderman Pushup Combo (6)
Do any cardiovascular activity that you can sustain for 2 minutes
Bench Vault or Lateral Jumps (6/side)
Do any cardiovascular activity that you can sustain for 2 minutes
T Pushups (6/side)
Do any cardiovascular activity you can sustain for 2 minutes
Stability Ball Stir-the-Pot (6/side)
Good, sweaty, metabolic good times (and you'll improve your fitness, too).
Now, there's something else I want to punch in the face, too… and we can do this together.
Warning – This is Personal
I want you to meet Mama Finishers, (my beloved mother who I call, "Ma").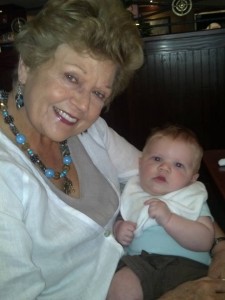 That's my Mom with Baby D (Deakan).
Even on her bad days, my Mom finds a way to smile.
What do I mean "bad days"?
She has a nasty disease called, "MG", which stands for Myasthenia Gravis (to this day, I still can't pronounce this).
MG affects people of any age, race or gender. The most common form of MG is a chronic autoimmune neuromuscular disorder that is characterized by fluctuating weakness of the voluntary muscle groups, and can affect muscles that control eye movements, eyelids, chewing, swallowing, coughing and facial expression as well as the arms and legs.
MG also can affect breathing. The prevalence of MG in the US is estimated to be about 1 in 5,000 people.
Every year, I do a charity walk for the MG Foundation of America.
This charity is dedicated solely to the fight against myasthenia gravis and to serving patients with MG.
If you're in GA, I'd love to see you there on March 15th. But even if you're not…
Here's how YOU can help PLUS you'll get some cool stuff, too.
If you want to harness the power of intervals and finishers, I've got two killer programs for you…
# 1 – Interval Finishers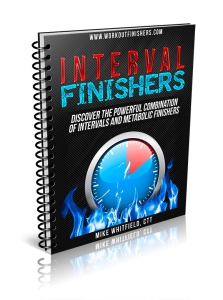 # 2 – Cardio Addiction Finishers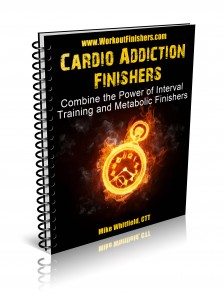 Here's how to get access to all 24 evil combos…
Step 1: Go to this website 
You'll see my awesome sister heading up Team Whitfield
Step 2: You'll see a button near the upper left side that says  "Donate to Walker". Donate $15 or more.
Step 3: Forward your receipt to us at support@workoutfinishers.com and we'll send BOTH of these programs to you.
100% of all profits will go to the MG Foundation
And remember, you ROCK and I appreciate your help with this evil disease. It's a win/win. You slap fat in the face and your donation slaps this disease in the face.
Click here to donate and get your two programs
I have no doubt that FinisherNation will rise up and make a difference.
Thanks, you ROCK!
Mikey, Master CTT