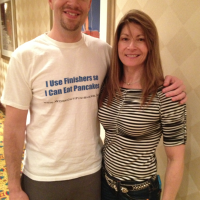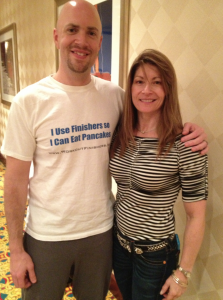 There's one woman who I respect a lot, and that's the Pull-up Queen, Shawna Kaminski. I call her my gal pal, but better nicknames are welcome.
The nickname isn't what's important, but getting better is. If you were to ask me what's the BEST upper body exercise to look MORE athletic and leaner, while also getting stronger, it would be the pullup. Yet, you're afraid to try it because you "think" you can't do that many (if any).
Fortunately, there's Shawna. She's obsessed with getting more people like you and me to improve our pullup numbers, even if it's just one.
Awesome intro ends here.
Pull Up Tip – Scap What??
By Shawna Kaminski
Author, Challenge Workouts

Hey, I'm Shawna K, 'gal pal' to Mikey Whitfield and I thought I'd shoot over a video with some tips and a short little circuit for you to help you with your pull ups. Some people refer to me as the 'Pull Up Queen' because I can knock out multiple sets of multiple reps of pull ups in my challenge workouts.
Actually, I thought Mike could use these tips too. (Last time we did pull ups together, he got called out for doing 'head ups' 😉
EDITOR'S NOTE – I just got ripped. AWESOME.
We have a big project coming up and I'm gonna kick his butt on the pull ups so he can use all the practice he can get….more on that project later.
In any case, the first tip I want to tell you about is called 'scapular retraction'.
Scap what??
Well, this is fancy talk for 'squeezing your shoulder blades together'. (I just wanted to impress you there for a minute). Basically, you need to be able to find your back muscles to do a pull up. Most people start off doing a pull up just pulling with their arms and internally rotating their shoulders to hike themselves over the bar. You'll get no where fast with this technique.
Instead of trying to get the chin OVER the bar, try to get the chest UNDER the bar. Look up, hang with straight arms and without bending the arms, squeeze the shoulder blades (scapula) together (retraction). You should be able to move an inch or two. This is the start of the movement, warm up with some reps of scapular retraction and then each time you attempt a pull up, start by squeezing the shoulder blades together.
A sweet little circuit to help with the pull up looks like this:
Do a warm up and then do a few scapular retractions to get those back muscles warm.
Do 10 assisted pull ups – You can do band pull ups, jump pull ups, step up pull ups. Just remember to do a slow hang every time you get your chest to the bar to work the negative or eccentric portion of the movement.
Do 10 DB rows per arm – Use as heavy dumb bell as you can. Start with your weak arm.
Finish with hanging leg raises. Do 10 leg raises, ensuring you rock at the hip instead of just bringing the knees to parallel, rest up to 30 seconds and repeat.
Here's a video of all this stuff:
Of course you can't forget to finish strong with a FINISHER from Mr. Finisher himself.
If you're looking for a solid program to guide you through, check out my progressive workouts to help you impress at the bar 😉
CLICK HERE to see if it's right for you <== Special Offer for us Finisher Freaks
Shawna Kaminski is a retired schoolteacher of 20 years who's found her passion in the fitness industry. She's parlayed her ability to teach and her love of training into programs that you can directly benefit from. Shawna is in her late forties, is a mother of two teenagers and understands how busy life can be. Her workouts are short and intense and often can be done anywhere. She's always up for a challenge and shares her fitness challenges with you. Currently she runs her own fitness boot camps and coaches clients in person and online with her amazing result getting programs.
Tags: how to increase pullups, pullup tips, upper body exercises