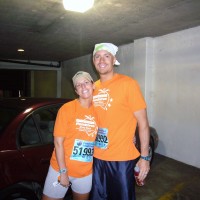 POOF… and just like that, half of 2013 is over.
Maybe you aimed for 15 pounds of fat loss. Maybe you aimed to quit eating processed sugars. So many resolutions are made in January, yet so many broken…
… sometimes just within a few weeks.
I'm here to tell you that the LAST thing you need to be is discouraged. Fortunately for you, I was once an idiot.
That's right… an idiot. More on that in a bit…
You see, coming up in just a few short days, I'm  celebrating BIG. I'll be running the Peachtree Road Race here in Atlanta, GA. It's the biggest 10K in the world and I feel blessed that I live so close to it.
It's like my second Christmas.
It was ten years ago that I ran my first one, just six months after I had started my journey. I was at the 75 pound mark into my 105 pound journey.
I'll admit that it was riveting.
Now back to the idiot part…
… you see, when I started, I didn't know half of what I know now. And to be brutally honest, I'm kinda' glad I didn't.
After all, there is SO much information out there on weight training and nutrition. Had I read all the newsletters back then that I read now, I might have gotten frustrated.
I didn't know the difference between organic and non-organic.
I didn't know the term "metabolic resistance training" (my favorite form of training these days).
I didn't know the science behind carb cycling.
I didn't know about intermittent fasting.
The way I looked at it – I just knew I had to move, stay consistent and make progress. That's REALLY the foundation you need. If you have that in place, you'll make huge strides – I PROMISE you.
And if you need some encouragement along the way, let me know here on my facebook page.
By the way, I'll be the first to admit I'm a part of numerous fitness newsletters because I NEVER want to stop learning.  They help me help you.
But if you're spending more time "researching" the best way to reach your goals instead of taking action, then you have it all wrong. That's harsh, but true.
Make progress, not perfection.
For example, I get the question all the time, "Mikey, what diet were you on when you started to lose all that weight"?
The truth?… I have no idea.
I just focused on making better decisions. I was working in the corporate world at the time and I would hit McDonalds, supersize my meal and drink a Coke for lunch.
I knew if we went to the mall, I could go to this one place called "Easy Street" and get grilled chicken with green beans and add Tabasco sauce to everything to give it more flavor.
So was it low carb? Sure. But I was also eating breakfast back then and I would eat oatmeal. So, I really wasn't on a low-carb diet.
See where I'm going with this?
Create your own path that works for you. 
Do you enjoy interval training over finishers? Then do intervals. It doesn't hurt my feelings. I just want you to succeed…
… and your friends and family should, too. Surround yourself with people who want to improve. You'll inspire them as they inspire you.
So at the end of the day, focus on these simple things and I promise you that you'll double if not TRIPLE your results before 2013 is over…
Focus on Progression Not Perfection Simply make better choices. Don't worry about following the exact principles from an exact diet.
Focus on Process Goals So many of of us (hey, me included) focus on pounds on the scale or a certain size instead of hitting a certain number of workouts, etc. So, instead of focusing on the outcome, focus on the process.
___ number of workouts each month
___ vegetables each day
etc, etc.
Fat loss will then be a by-product of sticking to your process goals. I learned this trick by Alwyn Cosgrove.
That's honestly about it. Focus on those two things through the rest of 2013 and watch the magic happen.
I leave you with a few quotes I've said on my facebook page that you will hopefully find encouraging:
"You say, 'I have to work out today'. I say, 'I get to work out today'.  Never underestimate the power of perception."
"You never know who's watching you. Whether you're losing weight or simply trying to get healthy, people are being inspired by you.  No pressure… but they are counting on YOU. They may never talk to you because they are scared or nervous. But deep down inside, they are realizing that if you can do it, they can do it too.  Keep inspiring."
"Fat loss is not a workout program or a diet. It's a war. And in war, we win some battles and we lose some. With every battle, won or lost, we learn from it. No war has ever been won without mistakes.  You can lose battles and still win the war. Most of the time, the most important battle is saying, "I won't give up". Win that battle and you'll win the war."
Now go get'em Tiger <=== Ahhh CRAP. I ruined it. I ruined the mood!
Finish 2013 strong,
Mikey, CTT
P.S. If you have any questions or you want encouragement, join the rest of us here on my Workout Finishers Facebook page.
Tags: encouragement, motivational fat loss story, weight loss