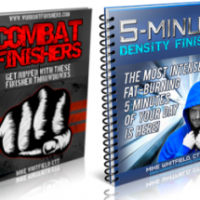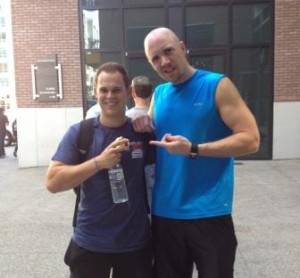 Did you know there's one move that works 9 muscle groups at the SAME time?
No, it's not burpees on a treadmill either (like Workout Finishers reader John Crosby is begging me to film…. although that would be hilarious).
It's a move that my friend Daniel Woodrum, who I spent the last 3 days with from sun up to sun down filming all weekend uses at his famous kickboxing gyms in Charleston, SC.
This ONE move also uses ZERO equipment.
Any punching movement with the correct stance works a lot of muscle at one time, especially the muscles that are typically ignored like the external obliques (your love handles) and traps.
Over time, as you age, if you ignore working your trap muscles, you could easily get the "hunched over" look. It can become even worse if you're working at a desk all day.
With Daniel's approach with his clients, he puts a unique "twist" on punching and combines punching with cardiovascular drills and bodyweight training in the perfect sequence using "rounds" so that you burn fat, get more athletic and burn a whopping 13.3 calories per minute.
That means you'll burn up to 399 calories in just 30 minutes.
The secret to these workouts is metabolic density training, and you approach it just like you would a fight. With each round, you try to get better and do MORE work than the first round.
So, here is one to try:
Perform these 3 exercises as many times as possible in three minutes without any rest. After your three minutes is up, rest 45 seconds and repeat once more. Your second time through, try to get through the 3 exercises more times than you did the first.
Rd 1)
  Squat to Punch – 10 Reps           "T" Pushups – 6 Reps Per Side            Reverse Lunge To Front Kick – 10 Reps Per Side
When Daniel showed me the first move, my quads were on FIRE while I punched. I pretended I was punching a waiter at IHop that said, "we're out of pancakes man".
Who would you like to pretend to punch? Great stress reliever!
You should see the crazy ab circuit in this workout, too.  It's 6 minutes of conditioning and crazy ab exercises.
Get 16 weeks of Home Kickboxing Revolution Workouts here
It's no wonder Daniel had clients like Amanda, who lost 6 inches in just a month…
… or Tiffany who lost 23 pounds in 60 days
… or Billy, who lost a whopping 56 pounds
But that isn't what should get you excited. These people continue to train week after week, month after month, even year after year because they say they are "addicted".
How long do YOU typically stick with a workout program… 2 weeks, 6 weeks, 90 days?
You know the secret to long term success is consistency.  And with Daniel's approach that lets you burn fat PLUS unleash stress, you'll train just like an athlete that actually enjoys working out.
Get the NEW Home Kickboxing Revolution here <= ZERO equipment
When you grab it at the link above, I have the perfect bonuses to go with it, too.
Bonus # 1
– Combat Finishers
Bonus # 2
– 5-Minute Density Finishers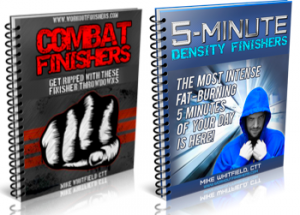 That's 24 finishers you can plug in with any workout.
The Combat Finishers use a variety of unique bodyweight exercises and resistance exercises, while the 5-minute density finishers will be the most intense 5 minutes of your day.
Here's a Combat Finisher to try after any of the Home Kickboxing Revolution workouts…
The "2-Round Superset" Combat Finisher <= Ding-ding
Do the following superset as many times as possible in 3 minutes, resting only when needed. Once the 3 minutes are up, rest 30 seconds and move into the second density superset…
1A)
KB or DB Swings (10)
1B)
Elevated Pushups (5/side)
 Do the following superset as many times as possible in TWO minutes, resting only when needed.
2A)
*Prisoner Lunge Jumps (3/side)
2B)
**Punch/Kick Combo (3)
 * Keep your hands behind your head while doing lunge jumps. You won't be able to go as high, but you'll work your upper back at the same time.
** Punch with your left hand, punch with your right hand, kick with your left foot, kick with your right foot… that's ONE rep.
Get the best conditioning workouts ever right here
Then forward your receipt to us at cranktraininghelp@gmail.com.  We'll send you the two bonuses.
Have fun with the ZERO equipment Home Kickboxing Revolution,
Mikey, CTT