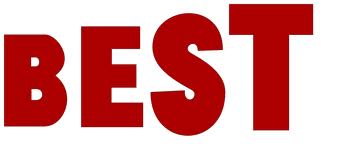 What a fantastic, yet simple quote that I stumbled on this morning. Read and apply today…
"The elevator to success is out of order. You'll have to use the stairs . . . one step at a time." – Joe Girard
Good stuff.
Here's something else that's good stuff.
Fall weather walks and runs <= Mikey, you do the cardiozzz?
I can't explain it. On my off days, when it's about 57 degrees outside and I feel the cool, crisp air on my face, I go for a 20-30 minute walk or run to clear my head.
I get the best ideas ever at this time. And it's nice to get outside.
Years ago, I used to jog a lot more and I even did a half marathon in 2008. I can mark that off my bucket list, but I'll be straight up with you… I'll NEVER do it again.
My knees were sore and I was ravenous. I couldn't eat enough. That's actually normal for a lot of people like you.
Repetitive cardio can make you hungrier. So if you burn 300 calories in your "cardio" workout and you end up eating 400 calories more that day because of your appetite, it kind of defeats the purpose, right?
That's why I use a variety of bodyweight and high-rep finishers … DUH.
And many of my finishers have burpees in them because frankly, they are the biggest bang-for-your-buck bodyweight exercise PERIOD.
But I typically "cycle" through 4-6 varieties of burpees because the plain ole' burpee just gets boring.
For example, the Burpee/Spiderman Pushup Combo (here's how to do it…)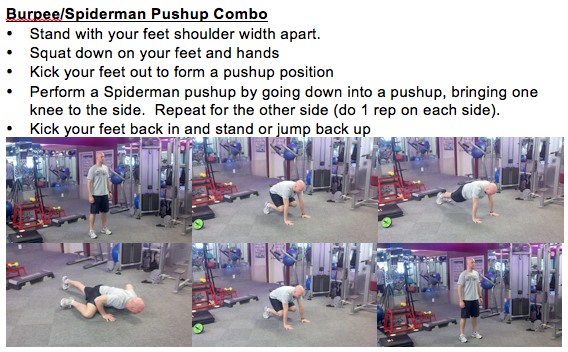 So you'll replace the regular pushup with a Spiderman pushup to hit your obliques a little more.
However, varieties of burpees can also be used as conditioning workouts (when combined with other moves… you shouldn't do 15 minutes straight of burpees. That's just silly).
So if you feel your joints could use a break and you want to work out at home, you could do a variety of bodyweight circuits for a few weeks to give your body a break. Burpees are actually low-impact (just take out the jump)…
But because a variety of burpees work so many muscles at ONE time and they release fat-burning hormones, your workouts will NEED to be shorter.
That's right Betty, that IS good news.
Here are a couple more reasons you should implement workouts using a variety of burpees…
1) Your conditioning is horrible. You can crank a strength session out of the park, but you get exhausted going to the mailbox.
2) You want to improve your strength sessions. Burpees improve your overall fitness, coordination and muscular endurance.
3) You want to accelerate fat loss. Look, burpees burn about 12 calories per minute. But you can't just do burpees the whole time. You'll burn out your nervous system. Use a combination of a variety of burpees and other moves to have the perfect intensity to promote fat loss.
At the link below, you'll discover 50 varieties of burpees and how you can implement the perfect burpee varieties based on your fitness level….
…. plus 21 conditioning workouts using the best bodyweight exercise of all time including coaching videos to help you do the moves right.
=> 21 workouts using the BEST bodyweight exercise of all time
Boom goes the burpee dynamite,
Mikey, CTT
Tags: best bodyweight exercise