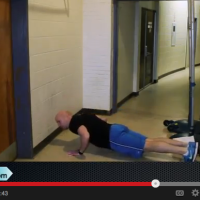 Perhaps this is the weirdest finisher you'll ever do… YET.
It's almost as weird as this photo of a donkey in a boat:
But that's what I love about finishers. The set and rep schemes can be manipulated so that you still produce a lot of volume in a little bit of time, but still get amazing results. This especially true when you perform a density finisher.
The density approach is your favorite based on feedback from my longtime guinea pig client and you, the finisher freak.
Density finishers challenge you to do as much work as possible in a certain timeframe. For a finisher, this is brilliant because there's a light at the end of the tunnel before you even get started. My finishers last 10 minutes or less and the one you're about to rock is 5 minutes.
The real secret to getting the MOST out of a density finisher is obviously doing as much work as possible in the time given, but the truth is that your form must be spot on. When you go from one exercise to another, you're going to get fatigued and that's when sloppy form happens.
So when you feel fatigued, take a quick breather, focus on quality work and then jump back in. Remember – it's as much QUALITY work in the time given.
Alright, enough chatter. Knock out this brand NEW "One by One" Finisher:
The One by One Finisher
Do the following circuit as many times as possible in 5 minutes, resting ONLY when needed.
Lunge Jump (1/side)
Squat Thrust (1)
Burpee/Pullup Combo (1)
Lateral Jump (1/side)
Spiderman Climb (1/side)
Not only will you torch calories with the exercises alone, but you'll also burn it up simply switching from one stand-up exercise to a floor exercise using just one rep. By the way, I did this one in a hallway inside a middle school. If I can work out there, certainly you can eliminate all excuses?
Boom goes the one-by-one dynamite….
… and of course, may you never, EVER get bored with your workouts,
Mikey, CTT