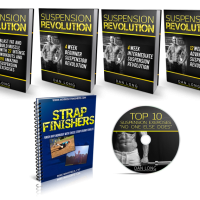 If you're anything like me, you've probably been lifting weights for a long time.
I was just having this discussion with Dan Long, who trains athletes and A-list celebrities at his facility in Tampa, FL.
We were having dinner in Miami, along with his client Joel Marion.
He made a good point – there are over 600 muscles in your body. And when you perform "cardio", you only work your lungs and lower body.
Now when you hit the weights, that's much better. But you're still not hitting all 600 muscles… not even close.  (Needless to say, Dan had my attention… plus, it's fun to watch him talk because he's got so much energy – it's contagious).
So, how do we fix that? How can we get a little closer to hitting all 600 muscles so that we can break a plateau, shock fat loss and shed that stubborn belly fat?
I'm sure you would agree that if you hit more muscle in your workouts, you'll get better results. You'll bust through a plateau and finally shake off that stubborn fat.
In fact, that's exactly how Dan trains Dekoda Watson of the Tampa Bay Buccaneers. That's why he is so ripped.
The crazy part? Dekoda uses only ONE piece of equipment.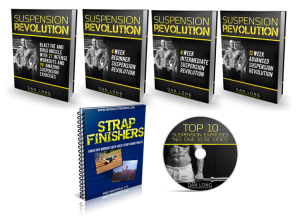 Here's the thing about using this ONE piece of equipment…
..EXPECT to be sore.
You see, you'll be working muscles that have been dormant for a long time, and that's OK.
Truth be told, I was sore after just working with my client on the photos for a bonus that comes with Dan's program…Strap Finishers.
That's right, after just doing 1-2 reps of each exercise for the manual, I was sore the next day.
It made perfect sense. I was using muscles you can't hit with traditional weight training.
So, if you're looking to "shock" your body and bust through a plateau or you need to lose fat faster, hit NEW muscles so that it takes MORE calories to recover.
In order to do that, you'll need to use exercises that your body simply isn't used to.
Dan has 191 exercises to do that here
Now, PLEASE take my advice here. I've played with Dan's program and my abs were killer sore. So, when you start his program, cut back on the volume a little bit when you start it.
Once your body adjusts (usually around 2 weeks), then you can start cruising through his crazy, but effective program.
Here's an approach you can use with Dan's program and take a break from weight training (plus you'll give your joints a break)…
Do 4 weeks of Dan's Suspension Revolution (be brave, if you stick with my advice, you won't be as sore as I was).
Then do 4 weeks of a bodyweight program using zero equipment. They don't need to be long (about 30 minutes is sufficient).
You'll get killer results, bust through a plateau and give your joints a break.
You may not have a 4-week Bodyweight Program, and that's where I come in.
When you get Dan's Suspension Revolution, forward your receipt to cranktraininghelp@gmail.com and we'll send you the Bodyweight Dirty 30 program.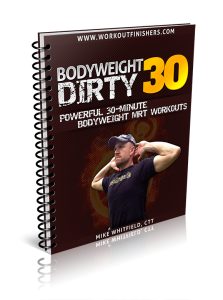 They are 30-minute bodyweight workouts using ZERO equipment.
Grab it here => Dan's Suspension Revolution + Bodyweight Dirty 30 
And don't forget to forward your receipt. Awesome sauce – you're about to punch fat in the face,
Mikey, CTT
P.S. Tomorrow, I'll share with you one of the Strap Finishers that comes with Dan's program. Yowza.