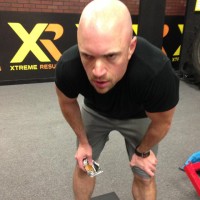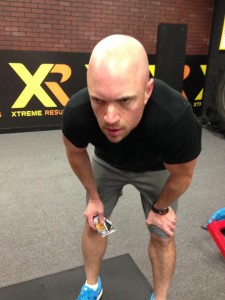 The "Combo Gauntlet Special" is not your favorite restaurant dish. That's the bad news. But there is good news.
The "Combo Gauntlet Special" is a NEW finisher that will smoke you in just minutes and it sure does beat boring cardio.
So you'll knock this beauty out after your workout today or perhaps as a quick conditioning off day workout.
But first, let's learn a quick lesson on how to approach a density finisher.
As you know, a density finisher is when you do a lot of volume in a little bit of time.
There are typically two versions of the density approach…
1) In the given amount of time, you are to complete as many rounds or reps as you can (with good form of course) or… 2) You complete a given number of reps or rounds as fast as possible.
Today, it's all about #2.
But this is when most people fail. They go to failure, and they end up not being able to get in as much volume because they didn't use this one secret.
This one secret will let you knock out even more reps although it's not what you expect.
The secret is to leave 3-4 reps "in the tank". This will cut your recovery time and you'll be able to jump back in sooner.
Boom.
Since you're now a certified density genius (CDG), you can now DOMINATE the following finisher.
So grab a fancy cloth napkin, put it underneath your shirt like a bib and dig in. You're about to have a delicious "Combo Gauntlet Special".
The assigned "gauntlet" is one of two Burpee combinations.  This has been called "Awesome Sauce" by…. well, no one.
Dang. Now it's just awkward. Whatever. Do the finisher.
Do the following circuit 4 times, resting only when needed. The next time you do this finisher, try to beat the time it took you to complete it.
Burpee/Spiderman Pushup Combo (8)
1-Arm KB or DB Swings (left side) (15)
Burpee/X-Body Mountain Climber Combo (8)
1-Arm KB or DB Swings (right side) (15)
Tomorrow, we'll learn a quick lesson on how to approach an entire density workout (plus a HUGE announcement).
In the meantime, I have a motivational picture including a quote and a tall stack of pancakes on my facebook page.
Become a Finisher Freak on Facebook
Talk to you tomorrow,
Mikey, CTT