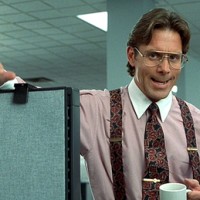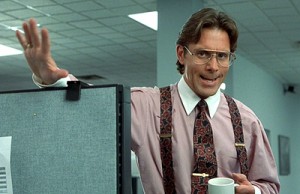 I'm in Miami this week, along with my "Croation Sensation" buddy Rick Kaselj, "The Godfather" Craig Ballantyne, the "Armenian Comedian" Bedros Keuilian, my gal pal Shawna Kaminski, the Hip-Hop and KB Guru Chris Lopez and many others.
When we meet, it's just like the movie Office Space. Craig walks around and asks if all of us are doing our best and sending our own reports to you with solid information.
Back in September, Craig came up to me and said, "Yeeeeaaaaah… if you could talk to more about metabolic finishers and help thousands of people to never get bored with their workouts, that would be grrrrreeeaaaaaat. Yeeeaaaaahhhh.
Then I drank some coffee and beat up a printer.  Weird.
You want to know what else is weird? It's been over a week into the New Year and I see people coming into the gym and doing mindless crunches and sit-ups to work their abs and lose their holiday flub.
That doesn't work and you already know that.
Here are 33 finishers that will hit your abs HARD
Let me be blunt. It takes hard (but smart) work to lose belly fat. That's why I like to use what I call an "ab finisher".
You'll combine the power of a metabolic finisher, which already has been PROVEN to burn more fat than long, boring cardio, as well as the best ab exercises, and even NEW ones like the Burpee/Spiderman Pushup Combo.
That's when you do a burpee, but after you kick your feet out, you perform a Spiderman Pushup (1 per side), then you thrust your feet back in and then jump or stand back up.
And since I don't want you making the same mistakes as I saw from these poor people, I'm giving you the best Ab offer in all the land.
33 Ab Finishers for just $7 <= Yeah, I'm crazy.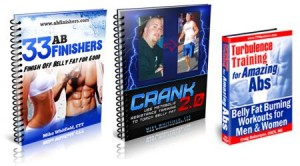 Plus, you'll get 2 Metabolic Resistance Training workouts including Crank 2.0. You'll burn fat faster than everyone else, and you'll do it in less time.
You'll be turning heads with a smaller waist line in February for sure, but only if you do it right…
… and doing it right is using MRT and these specialized Ab Finishers.
You'll experience a new, hotter way to work your abs instead of those back-breaking crunches and sit-ups that everyone else is doing.
In fact, I have an Ab Finisher workout in the Men's Health Big Book of Getting Abs that just got released.
Now I can't share that one, but what I can share is this one from the Ab Finishers Manual…
"Abs Four Sure" Abs Finisher
Do the following superset up to 8 times, resting for 4 secs between supersets (yes, 4.. hence the name)
Spiderman Pushups (2/side – 4 total)
X-Body Mountain Climber (2/side – 4 total)
Using finishers like these with your favorite workouts or even on your off days will burn off that belly fat faster than even 30 minutes of cardio.
Then you'll have more time to beat up printers.
Plus, you'll get the nasty "Snatch On, Snatch Off" finisher using the KB or DB Snatch after Workout C in Crank 2.0.
That will be tough after the conditioning circuit in Workout C, but you already know the truth behind losing belly fat…
… it takes smart, hard work.
Burn off belly fat for good here for just $7
But hurry, this offer won't last long.
So, yeaaaaahhhhh, if you could get started on doing it right and forgetting all that cardio and crunches crap… that would be grrreeeeaaaat.
Yeeeaaaaaahhhhh.
Mikey, CTT