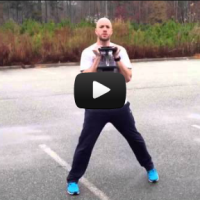 After my session with my long-time client yesterday, we went behind the gym to film my favorite lower body finisher. I meant to ask him to bring his kettlebell because my gym doesn't have them, but we had to do it with a dumbbell.
I get asked on my facebook page a lot, "What's your favorite finisher for legs?", so now I can point you to this one. It's been a little while since I've filmed a video myself, so it was time to shake off the rust.
Here's how it goes…
Do the following superset as many times as possible in 5 minutes, resting ONLY when needed:
Narrow-Stance Goblet Squat (10)
KB/DB Swings (10)
Good times. And for more good times, here's a goofy guy on video showing you how it's done:
I love using kettlebells with my client's program, so next time, I'll be sure to tell him to bring his kettlebell. Swings are just more fun with KBs. But my Canadian friend, Chris Lopez, says there's more to it than that. Chris is as cool as the other side of the pillow and his approach to kettlebell training can get you shredded in just 45 minutes or less. He even gave a full workout (including the one he did in the parking lot).
Read the interview with Chris Lopez here <== Full Workout
Get ripped with his tips because this time of year, you just don't have that much time.
Enjoy,
Mikey, CTT