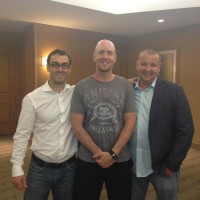 I still remember my early days of being a trainer.
I started training people in their homes first, then I made my way to a small gym in Jasper, GA, where I worked with my Dad and did training part time.
The "gym" in Jasper was some free weights, two treadmills, and one of those cheesy "universal" machines.
My first two clients ever? My parents. 
I remember being overwhelmed with my textbook material.  It covered everything from training pregnant women to complicated nutrition formulas to fat loss to putting on a large amount of  muscle mass.
I mean c'mon… you can't blame me. That's a lot to digest, especially when you're just getting started.
To this day, I haven't read or even used my text book from years and years ago. In fact, I may have thrown it out.
Frankly, the information is outdated before the textbook even arrives to your house.
Fortunately, I stumbled upon my future mentor and coach. I believe it was Men's Health where I found him… or it was on the interwebz.  You probably know him… Craig Ballantyne.
Watch this video to learn more about TT and its mission
It was him and his methods that instantly upgraded my approach on fat loss workouts for the busy person (which was my niche… because after all, EVERYONE is busy and just about EVERYONE wants to lose fat).
Now even if you're not a trainer, you'll still benefit from this metabolic workout template. It's based on TT principles but with my twist of course (I like to twist stuff, because it's just fun).
And if you ARE a trainer, this will hopefully help you upgrade your approach with your clients and you'll avoid the same mistakes I made when I started.
By the way, you'll get a wicked finisher, too 😉
Warm-up (Only takes around 5 minutes)
No, don't go on the boring treadmill. Instead, do a circuit of "easier" bodyweight exercises TWO time, resting for 30 seconds between circuits.
It can be planks, jumping jacks, bodyweight squats, pushups (10 or less is what I do) and more. Aim for around 4 exercises… if you need more, that's cool, too. Here's a sample:
Jumping Jacks (15 reps) Prisoner Squat (10 – 12 reps) Pushups (10) Leg Swings (15 reps per side) <= Swing your leg back and forth
Rest 30 seconds and repeat 1 more time
Metabolic Resistance Training or Metabolic Conditioning Training (Around 15-20 minutes)
Let the games begin. This is when you'll get to work.  Lift stuff up and put it back down. Rinse and repeat baby.
Seriously, use non-competing supersets or circuits. So for example, you'll start with a superset of perhaps this:
1A)
Squat or Goblet Squat (8 reps)
1B)
DB Row (8 reps per side)
Rest 1 minute and repeat 2 more times
You can also do a circuit here as well. I wanted to show you some very basic exercises so you can see what I'm talking about.  And an example of a Metabolic Conditioning circuit would start with perhaps this…
1A)
Box or Bench Jumps (6 reps)
1B)
Renegade Row (10 reps per side)
1C)
KB or DB Swings (20 reps)
etc., etc.
The entire scope of the program will dictate whether you use MRT, MCT or a combination of both (that's another article for another day).
To keep your attention, here is a stack of pancakes. Thanks.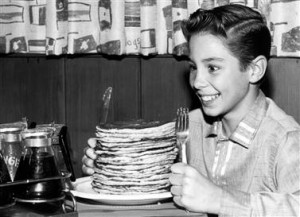 By using non-competing supersets and circuits as well as compound movements, you can do MORE in less time. That's the idea.
But…
… it can also be tricky.
For example, if you try to superset a DB Squat and a DB Row, your grip would fatigue and your DB Row would suffer.
Those little things can make a difference.
So, you've got your warm-up, your metabolic training and now it's time to finish with a bang.
Enter the finisher…
Your grand finale should be 10 minutes or less (the ones I write take as little as 2 minutes). I'll show you one that's from my "Finisher Deuces" program, that's packed with 2-minute finishers.
"2 Minute Singles" Workout Finisher
Do the following circuit as many times as possible in 2 minutes, resting only when needed.
Burpee/Chin-up Combo or Burpee (1)  Switch Lunge (1/side)  Elevated Pushups (1/side)  Prisoner Lunge Jump (1/side)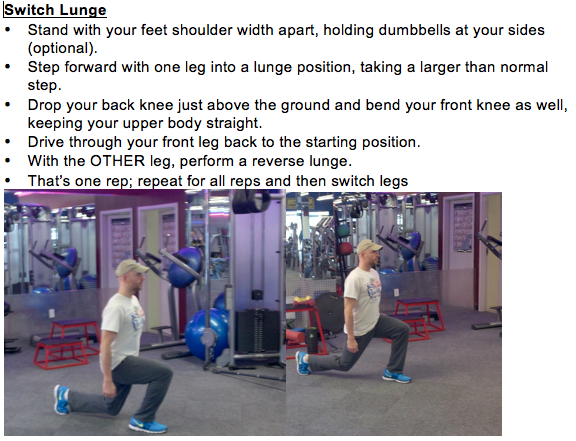 That's ridiculous…
… Yeah, ridiculously AWESOME.
That's how I roll,
Mikey, CTT
PS – I'm flying out to Michigan and learning more insider fat loss training this weekend. But you don't have to go anywhere. If you're serious about your training career and want to change lives, then…
Watch this video to learn more about the TT Mission