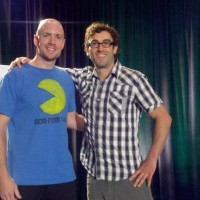 You'll probably call me a nerd for this, but I'm like a little kid at the candy store every month when I get my TT Trainer newsletter info from my fitness coach, Craig Ballantyne.
Here's a classic pic of Craig B and I at the very first TT Summit back in 2011: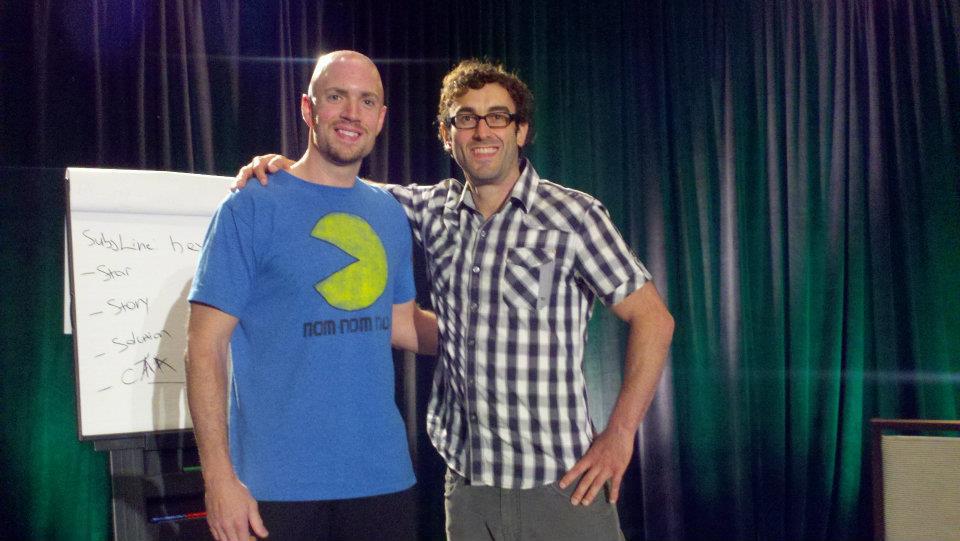 I'll set out a block of time and read every single word of his newsletter he sends out to all his certified trainers.
I don't know how Craig Ballantyne does it, but he always seems to find the most cutting-edge fat burning studies before me…
… and I'm subscribed to dozens of fitness newsletters.
And he may have found the best study yet…
More importantly, this study is going to help you increase post-exercise calorie afterburn by 450%.
It's great to see the science catching up to support the type of workouts that he has been publishing online and in Men's Health magazine for over a decade.
Consider this the New Rule of Metabolic Resistance Training.
Because quite frankly, MOST "MRT" workouts are not true metabolic resistance training. In fact, I've seen loopholes in many programs published on the web and magazines. I'll get to that soon. But first, check out this study…
Italian researchers compared what they called "High Intensity Interval Resistance Training" (HIRT) against traditional resistance training. (Reference: J Transl Med. 2012 Nov 24;10:237.)
In the traditional resistance training group, subjects performed a 62 minute workout consisting of 4 sets to failure of 8 exercises. Each exercise was done at 75% 1 RM.
The HIRT group performed a shorter, 32 minute workout that consisted of only 3 sets per exercise of leg press, chest press, and pull-downs at 85% 1RM followed by two "rest-pause-sets".
Results showed that the traditional workout lasted must longer, and total lifting volume was 17,000 lbs. But blood lactate reached only 5.1 mmol/L. And most important, they recorded a 22-hour afterburn of only a 5% increase (total of 98 calories).
In the HIRT group, the workout was shorter, and total lifting volume was exactly half of the traditional workout (8,500 lbs).  However, the increased intensity and combination of rest-pause training led to a much greater elevation in blood lactate (10.5 mmol/L) after training.
And more importantly, the HIRT group had a MASSIVE 22-hour afterburn of 452 extra calories (a 24% increase in metabolism).
The scientists concluded that HIRT training allowed subjects to do half the lifting volume in half the time but still increased afterburn by whopping 450% more than a traditional lifting workout.
That's an incredible response from a short, burst workout that only lasted about a half-hour – the same as the NEW Turbulence Training.
And that is more proof as to why Turbulence Training, in just 30 minutes, will work for you and your clients to burn fat faster than ever thanks to massive increases in post-workout afterburn.
But check this out –  it's more than just intensity and using non-competing supersets.
Craig has taught me many lessons, and one of those is to use a variety of rep ranges throughout the workout. So, if you're doing 3 sets of 8 on every exercise, you must change that in order to get even better results.
When you use different rep schemes in each workout, you hit different muscle fibers. This causes more muscle damage, which burns MORE calories to recover from. That's a good thing!
So, if you squat on Monday with 8 reps, it's a good idea to perhaps do 12 reps when it comes to lunges on your next workout.
That means you'll hit different fibers at both workouts, helping you burn calories WAY after your workout. That's part of the "secret sauce" of Craig's workouts…
… not to mention when you use a variety of rep ranges, your workouts are a lot more fun.
You also have to look at more than just "non-competing" muscle groups in your supersets or circuits. After all, if you superset a DB Squat and a DB Row, your DB Row will suffer because your grip would be fatigued from the DB Squat.
That means you won't get the most out of your DB Rows, which means LESS calorie-burning. Now instead of figuring it all out, you can get 24 done-for-you MRT workouts, all with follow-along videos right here:
24 weeks of MRT Follow-Along workout videos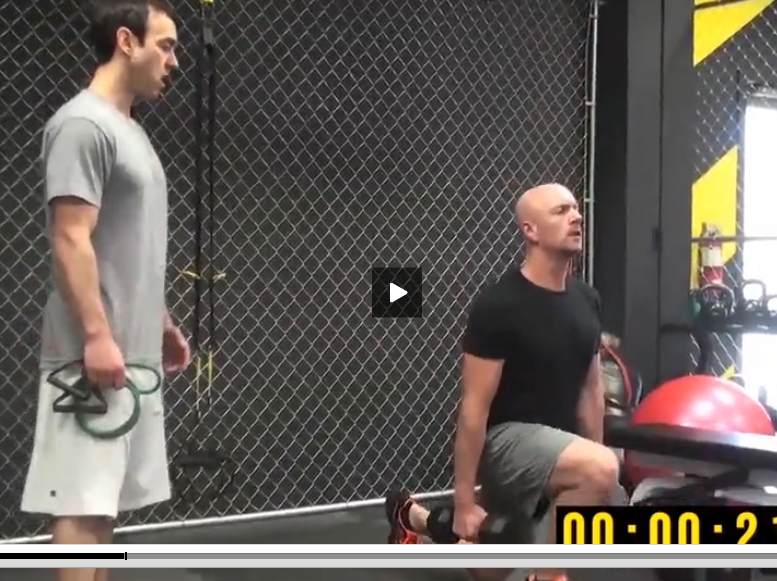 Craig's workouts continue to be proven by both science from all over the world and by experience from the thousands of online clients that use Turbulence Training to win his TT Transformation Contests…
… including 6 of my own clients.
By elevating post-exercise metabolism by 450% more than traditional lifting workouts (and probably even more than boring cardio), men and women are able to lose 20, 30, and even 40 pounds of fat in just 12 weeks.
I'll just casually mention a client named Chris here… the dude dropped 70 pounds in 6 months! Ha, so much for "casual". I bolded this. Hilarious.
Plus, the afterburn helps advanced and expert clients lose that pesky 5-8 pounds of stubborn belly fat thanks to the massive increases in their post-exercise metabolism from his short, burst workouts.
You don't have to train an hour a day with DVDs, or do any cardio to get lean. The answer is simply to use the high-intensity, interval resistance training and finishers found in the new Turbulence Training Done-For-Your 30-minute workouts and videos.
Get the new Turbulence Training Workouts <= Biggest discount EVER
By the way, here is what you get with Craig's NEW TT 2.0…
==> 24 weeks of follow-along, MRT workout videos with the legend himself, Craig Ballantyne, along with Shawna Kaminski, Brian Kalakay, and yours truly
==> The NEW and IMPROVED 10-year Anniversary Edition of Turbulence Training (complete training manual with exercise charts, photos and descriptions)
==> Amazing new versions of classics of TT Thermogenic-30 and TT for Buff Dudes and Hot Chicks (this is the most popular TT program EVER)
==> Five brand NEW 4-Minute Miracle workouts that you can do anytime, anywhere (they can be used as a finisher, too!)
==> The new and improved Turbulence Training Nutrition guide to deliver you the total fat loss package to transform your body in the new year
Not to mention, when you get it from this link here this week:
Get TT 2.0 here PLUS Bodyweight Gauntlets <= VIP Link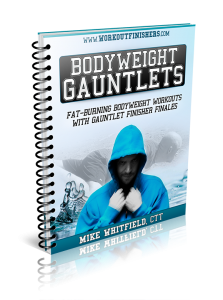 I'll send you my popular Bodyweight Gauntlet program.  This is a wicked 4-week FULL bodyweight workout program where each workout ends with a nasty gauntlet finisher.
Note – this bonus is reserved for the first 100 people to get TT 2.0 through the VIP links in my newsletters. There is nothing to do on your part. Craig will email me the list of the first 100 people and we'll email that bonus over the weekend… cool?
2014 is YOUR year,
Mikey, CTT