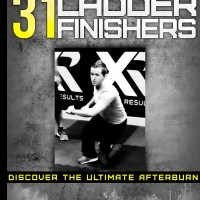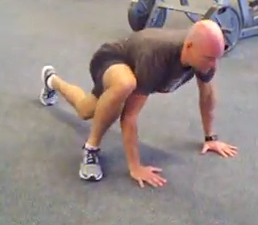 "Following the last workout (aka the greatest workout I think you've ever given me), I'm so incredibly sore all over. I don't know why the last one was so hard but I loved it and think that is a style of one I hope you use more often" 
– King, my very longtime client
And the funny thing is I've been training King now for about 6 years. That means he's been through hundreds of workouts with me.
What happened was that it started as an experiment, and then it became an obsession.
It's the powerful (yet ADDICTING) method of combining the power of a Ladder and a Finisher. A ladder, as you know, is when you start with a certain number of reps for a superset or circuit and work your way up or down. For example, you start with 8 reps of each exercise, then 7 reps of each, etc., etc.
The rest periods?… ha, that's up to you. Your goal – to BEAT the time it takes to complete your finisher every time you do it (with good form of course).
And here are 31 BRAND NEW Ladder Finishers for you
What happens you combine the power of a ladder and a finisher?  Well, you create a lot of density. Density means you're putting in a lot of work in a very short period of time.
This means improved conditioning, FASTER fat loss and the best part – it's MUCH better than cardio in just a fraction of the time.  But forget all that for a second – here's the best part – research is showing you'll KEEP OFF the unwanted fat.
Check out this recent study:  (Reference: Carels, R.A., et al. A Randomized Trial Comparing Two Approaches to Weight Loss: Differences in Weight Loss Maintenance. J Health Psychol. 2013 Jan 24.)
Researchers from BGSU delivered two different 12-week weight loss programs to 59 overweight adults. One program, "New Perspectives", focused on helping them fix their unhealthy relationships with food, while the other program, "Transforming Your Life", emphasized environmental modification, good habit formation and breaking old habits.
Both groups lost weight and changed their lives.
HOWEVER, the subjects in the habit-changing "Transforming Your Life" group were more effective at maintaining their weight loss during the next 6 months after the study (when they were on their own without researchers).
Now when you know you don't have to run like a hamster every day and can have fun with your workouts, you'll stay more consistent, wouldn't you agree?
That's why these Ladder Finishers work so well and why my readers and clients love them. They are MUCH shorter than long, boring cardio and they are a lot more fun.
You can get 31 BRAND NEW Ladder Finishers here
The # 1 secret behind Ladder Finishers on why they work so well and help you burn more fat is because of the short rest periods (which are dictated by YOU), and the ridiculous VOLUME you exert in such a short period.
They are tough, but they are FUN!
So kick cardio to the curb, and instead, do addicting Ladder Finishers like this one:
The Metabolic Ladder Monster
In the first circuit, you'll do 8 reps of each exercise. In the next circuit, you'll do 7 reps. Continue until you complete 1 rep of each exercise
Prisoner Lunge Jump (8/side…1/side)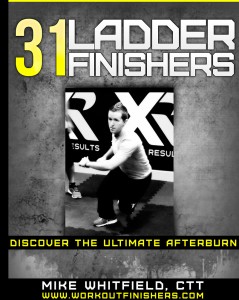 Triple Stop Pushup (8…1) Inverted Row or Strap Row (8…1) Spiderman Climb (8/side…1/side)
Get all 31 Ladder Finishers here
Boom goes the Ladder Finisher Dynamite,
Mikey, CTT
Tags: bodyweight exercises, bodyweight finishers, bodyweight workouts