Metabolic Finisher Programs 
Plug these addicting metabolic workout finishers with YOUR favorite workouts to banish boring cardio and shred even the most stubborn fat.
NEW ==> Workout Finishers 2.0
The all NEW 2.0 has arrived – 51 brand new finishers PLUS Metabolic Chaos


NEW! ==>  31 Ladder Finishers
Every single finisher inside this manual uses the powerful ladder method and is quickly becoming a legend.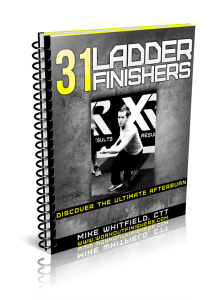 Ab Finishers Package
The ultimate finishers package to finish off belly fat for good
Hardcore Finishers Package
Finish ANY workout with the toughest hardcore finishers you've ever seen
Bodyweight Finishers Package <== Most Popular!
ZERO equipment finishers you can add onto ANY workout program to burn more fat in less time.
Bootcamp Finishers Package
The ultimate finishers program designed to beat bootcamp workout boredom

Individual Finishers Programs
Note – All individual finisher programs comes with at least
4 weeks of unique finisher workouts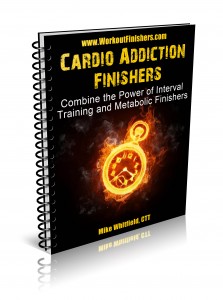 Cardio Addiction Finishers

You like intervals AND finishers? Why not do both?