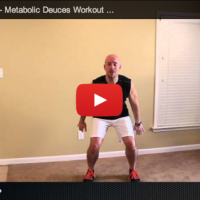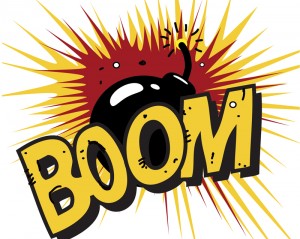 Boom goes the 4-minute dynamite. Here's what you're going to rock today after your workout…
… or even in your office as a quick metabolic boost
… or in your laundry room (just because it's fun to say, "I rocked a 4-minute bodyweight workout <<dramatic pause>> in my laundry room man"
… or in your backyard 
… or in your garage
… or on top of your car (just because)
You get the picture. And don't worry, if you're unfamiliar with any of the moves, I've got the video below, too.
This uses the density approach and I'll go ahead and warn you that it looks easy on paper. But after testing this with my superstar client and then using it at the TT Summit earlier this year, you'll see that the 4 minutes are brutal.
But you'll burn calories in May of 2782… even in your grave (it's crazy… crazy I say).
"Mikey, how will your body burn calories when you're like…dead?"
Because it's awesome.
Alright, here is the circuit… it's called "The Metabolic Deuces" and you're going to go through the circuit as many times as possible in 4 minutes, resting ONLY when needed.
Now if your form breaks down, you MUST rest. Each rep needs to be done with 100% intensity… cool?
Metabolic Deuces – AMAP – 4 minutes:
1A) Vertical Jump and Stick (2 reps)
1B) Explosive Pushup or Pushup (2 reps)
1C) Skater Hops (2 reps per side)
1D) Burpee/X-Body Mountain Climber Combo (2 reps)
Don't know the moves? Here is a video walk-thru:
If you're concerned about impact on your knees with the Vertical Jump and Stick, you can replace that with box jumps (land like a ninja nice and soft). You can even do the Total Body Extension.
Thanks to bodyweight conditioning, I've been able to play basketball 2-3 days a week and eat pancakes at least bi-weekly…
… well, except this month. For August, I'm giving up refined sugars and pancakes. (Yes, it HAS been brutal, but I've learned a lot about myself).
Anyway, bodyweight conditioning is also the "secret sauce" that MMA Fighters like Egan Inoue use to get in fighting shape and shredded … even in his late 40's.
It's also a great way to give your joints a break from resistance training. Now I'm not a MMA Fighter workout expert, but Egan is.
And you don't have to be a MMA fighter to get in fighter shape, either. Fast, bodyweight interval training is where it's at.
In fact, he trains A-List celebrities like Scott Caan of Hawaii Five-O so he can be shredded for his role plus all those intense chase scenes.
Need to chase a bad guy on foot? Use bodyweight conditioning circuits. 
Seriously, you'll perform better in and out of the gym when using bodyweight interval circuits. You'll lose fat… sure. But the REAL bonus is being able to handle everyday functions even better.
So, here's a killer circuit on the beach in Hawaii he made for you:
Bodyweight conditioning rocks the casbah,
Mikey, CTT
PS – Egan has 18 MMA bodyweight circuits that you can do at home plus his same nutrition program that gets his fighters shredded in just days right here: