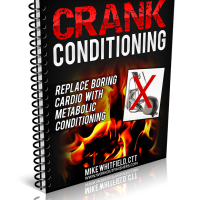 I have a long day today, so I switched the alarm to 4.
I'm meeting with my film guy for some YouTube videos this morning, then it's off to the gym later for my client of six years followed by a workout of my own.
Then tonight, it's my first basketball practice in like…forever. I heard two of the other guys already hurt themselves just "getting ready".
You already know the story of me tweaking my calf over a week ago.
Age… it happens.
Then to add insult to injury, I'm flying up to Michigan to Brian Kalakay's gym to film some finishers along with my home skillet Shawna Kaminski and of course, Brian.
I promised Shawna pancakes 🙂
So, although tomorrow is my "off day", I'll be working up a sweat which brings me to the next point…
"What should I do on my off day?" <== This question pops up a lot on my facebook Workout Q & A.
I'll not only explain that, but I'll also fill you in on how to feel warm and fuzzy inside with a charity you can be a part of for someone really special in my life….
… Mama Finishers. More on that in a second.
Let's dig in – let's say you work out 3 days a week and you're looking to do "something" on your off day to stay active.
The key is you want to find that balance of being active, as well as not interfere with your recovery so you can give your   workouts your best effort.
Some people enjoy intervals on their off days. Some people enjoy a nice, long walk. Then there are people who want a little extra push and  calorie burning to burn more fat and get their spring body a little faster.
I can understand that.
That's where Metabolic Conditioning comes in.
Metabolic Conditioning Training (MCT) is typically training in the higher rep range with many of the exercises being bodyweight.
The rest periods are short (normally one minute or less) and it's normally set up in circuit fashion.
Here's ONE secret though on "successful" metabolic conditioning that has worked well for my clients in the past.
In fact, this is the ideal approach to use on off days so that you can recover between workouts fine, yet burn more calories…
… when using resistance training exercises, choose a weight that you can lift for about 5 more reps than what's prescribed.
For example, if a DB Row for 20 reps on each side is in the program, you would choose a weight you could lift for 25 reps.
This is enough stimulus to break a sweat, work the muscles, yet recover so that you can give your best effort on your main workout.
Remember – the key is to make sure you're able to recover between your MAIN workouts. So, if you find yourself struggling through your sets on workout days, you will need to cut back on your conditioning.
Here's a sample MCT workout you could do on your off day…
Do the following circuit 3 times, resting for 30 seconds between circuits.
1A) Lunge Jumps (6/side)
1B) DB Row (20/side)
1C) DB Chest Press (20)
1D) Alternating Prisoner Reverse Lunge from a Deficit (10/side)
1E) Stability Ball Jackknife (15)
1G) KB or DB Swings (25)
1H) T Pushup (8/side)
1I) Shuttle Sprint (back and forth 6 times)
See how we cut back a little on the volume for 1A (Lunge Jumps) – if you can do a few more per side and it won't interfere with your recovery, go for it.
And for the DB Row, DB Chest Press and KB/DB Swings, remember to choose a weight that you can lift for 5 more if you're using something like this for an off day.
That sure does beat the "DREADmill".
That's just one example of MCT. There are also density circuits (like the Sweet 16 I showed you about 2 weeks ago) and then there are also "mini-circuits".
That's when you'll do 2-3 circuits of 3 exercises.
There's a lot of ways to use MCT on off days to burn more fat but without sacrificing workout quality on the days that really count.
"Mikey, can I do what's called 'Interval Finishers'?"
You sure can imaginary person that asked me that.
That's when you combine the power of a workout finisher PLUS intervals. I can't even explain it. It's actually a reader favorite among my stand-alone finisher programs.
So, really… we're a bunch of freaks. And that's totally cool.
This is when you'll do a shorter interval session, followed by a workout finisher. Heck, sometimes, you'll combine them and do both at the same time.
Good times.
"Interval Finishers" was one of the most fun programs I've ever put together. When doing those, I would start off at just twice a week, then you could eventually do them 3 times a week.
The Interval Finishers are longer than my typical finishers, and they can be used as off day workouts as well. (Just remember the guidelines I mentioned).
Now what's this about "Mama Finishers"?
This is personal, but my Mom has what's called "MG", which stands for Myasthenia Gravis.
MG affects people of any age, race or gender. The most common form of MG is a chronic autoimmune neuromuscular disorder that is characterized by fluctuating weakness of the voluntary muscle groups, and can affect muscles that control eye movements, eyelids, chewing, swallowing, coughing and facial expression as well as the arms and legs.
MG also can affect breathing. The prevalence of MG in the US is estimated to be about 1 in 5,000 people. 
This Saturday, I'm walking for the Myasthenia Gravis Foundation of America, Inc. This charity is dedicated solely to the fight against myasthenia gravis and to serving patients with MG.
If you're in GA, I'd love to see you there. But even if you're not…
Here's how YOU can help PLUS you'll get some cool  stuff, too.
I've created a NEW program called "Crank Conditioning", which are the perfect off day workouts. You can use these workouts on your off days instead of long, boring cardio.
They have some fun metabolic conditioning circuits inside and you'll burn more fat doing it, too.
And you already know about my "Interval Finishers"… don't you??
If not, you do now. These are 12 insanely effective workouts that combine the power of intervals and finishers.
So, here's how to get BOTH of these programs.
100% of your donations will go to the MG Foundation.
 Go here to donate for Mama Finishers.
You'll see a button at the top left that says "Donate to Walker".
My sister is heading up the Whitfield clan and has a donation site set up.
Donate $15 or more and we'll send you BOTH "Crank Conditioning" and "Interval Finishers".
All you have to do is forward your receipt to us at cranktraininghelp@gmail.com and we'll send the programs your way.
Like I said, 100% of your donation will go to the MG Foundation.
Basically, we want to take this disease and punch it in the face by discovering a cure.
I really appreciate your consideration for your help with Mama Finishers (aka "Ma" – but only I can call her that).
Here's how to get the warm fuzzies…
Step 1: Make a donation of $15 or more here
Step 2: Forward your receipt to us at cranktraininghelp@gmail.com
Step 3: We'll send you the NEW Crank Conditioning as well as Interval Finishers
Step 4: Give yourself a pat on the back for helping out Mama Whitfield and helping find a cure for this disease.
 I know us Finisher Freaks can make a difference.
This is just my small way of helping. Thank you for reading this and for your donation.
Mikey, CTT