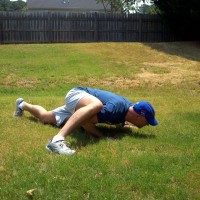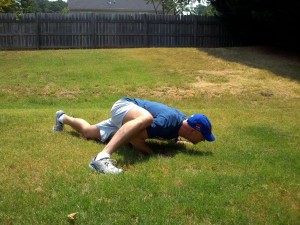 It's round 2 today of filming workouts with Craig Ballantyne and Brian Kalakay here in Lapeer, Michigan. Today is a strong Metabolic Conditioning theme, which is perfect because I've got an MCT workout for you from my friend Zach Marcy, who owns a transformation studio in Florida.
I really like what Zach is doing with his clients and asked him to step in while I beat my body up all day.
Now I didn't mean to do this on purpose, but it's pretty awesome. Yesterday, I talked about how Nia Shanks lifts heavy stuff to look lean and athletic.
Speaking of Nia, she's got a badass full workout (literally) here in case you missed it:
=> Nia's Full Workout (and I added a Finisher Superset)
And by the way, today is the last day to get her program at a discount, along with my free Finisher Supersets manual.  Click on the link above for a sample of her awesomeness.
And then today, it's about the conditioning. They go together like pancakes and syrup.
I'll let Zach take it over now. It's time for me to infuse my nervous system with caffeine…
METCON- Three Times The Results In Half The Time – Zach Marcy
This headline has to be a crock but it sure is compelling. Right?
"Your clients could be getting triple the results in half the time", were the very words that my district manager at a major fitness company uttered to me when I told him his style was fru-fru. He was fairly new to our company and was making his rounds evaluating potential managers to promote from within the ranks. He had this theory on training brought over to our company after we merged with another big corporate gym.
I knew what I was talking about. Other trainers from this gym we merged with have invited me to their gym before and i've seen type of training this dude was attempting to push on us. NO WAY it will fully develop a body like my program design does. Where were the bicep curls and weighted ab crunches? What happened to the tricep press downs and the leg press machines? Come on with this stuff.
Myself and the rest of the trainers were really letting this district manager have it. That was when he called us on our words and took out two trainers onto the floor and proceeded to take them through these "fru-fru" exercise routines. These two guys got put down like rabid dogs on a farm. I don't think either of them made it 8 minutes. The rest of us proceeded to pick on them, but deep down I didn't want to get picked to go next so I backed off my bravado a little bit.
My superior was a former college football player and I was a bodybuilder. He stood about 6'2 and a lean and muscular 210lbs. I was about 5'7 230lbs (picture included below) and could lift cars, houses and hardly walk 3 blocks without feeling like I was gonna have a heart attack. My old tried and true method of body part training with the big 3 power lifts (bench, deadlift and squat) and slow and go cardio had gotten amazing results in my and my clients bodies for years. Who was this guy to tell me that with 3-4 workouts a week that were a fraction of the time of my workouts were going to yield better results? Besides, I had a portfolio full of before and after pictures with testimonials that proved otherwise. It was an alpha male stand-off and my 20 something year old ego was not going to back down on this one. I was telling him the world was flat and he was telling me the world was round.
Of course I got picked next. It took him about 15 minutes to have me ghost faced and ready to pass out. I finished on ego alone. With 50lb dumbbells, simple body weight and a lot of intensity my muscles burned, my heart was working like I just ran a fast 1 mile pace and I had very little left in the tank. Suddenly, the world seemed very round to me.
Zach Marcy may I introduce to you to Metabolic Conditioning (Met Con).
That was enough for me to start drinking the Kool-Aid and I was hooked. During my new period of trainer enlightenment this major gym took us through an education process of how to train and progress (and regress) clients through Met Con's.
Simply put, Met Con's are combining compound strength training with core, and conditioning movements. The ambition is to maximize muscle building (hypertrophy), maximize fat burning (lipolysis), maximize calorie burn and doing so in a very short period of time.  It winds up being almost half the time combining these techniques into the sessions than if you were doing these independently of one another. Yet, the accumulative effect of doing these together actually produces a synergistic effect of even greater results during the shorter time periods working out. It really becomes, "three times the results in half the time".
For the sake of brevity i'll spare you the science details behind the theories. What I won't spare you is what transpired in my own body very soon after I found this method of training:


All of my clients started reaping the benefit of maximized results in minimum time very similar to the picture you see above. The cold hard facts of this transformation: from 225lbs at 17% body fat to 185lbs at 8% body fat. Although I wasn't nearly as strong, I could actually go out and perform a 5k in about 24 minutes when (and this is no exaggeration) I had to take a knee after ? of a mile when I started.
We use these very workouts in various shapes and forms in my online coaching programs and in my transformation studio in Miami, FL.  With the method of cutting our workouts down from 6 times a week of training to 3-4 times. We went from spending 1.5 to 2 hours in the gym down to 25-50 minutes. At that length of time  people stay dedicated to being in our programs has i increased to that measured in years and not months. So the actual results over time are significantly enhance, because the longevity of continuing on these programs is greater.
This wouldn't be a Workout With Finishers blog post if it didn't have a workout you could take with you that gives a shining example of Metabolic Conditioning. Let's pull the actual workout that this guy had me do that day:
1. Dumbbell (DB) Clean to Press 4 x 10
1b. DB Front Squats 4 x 10
1c. Sprint 25 yards down and back 4 x's
30 seconds rest in between round, no rest in between exercises   2. Box Jumps 4 x 10
2b. Medicine Ball Rotational Slams 4 x 10 each side
2c. Bosu Explosive Push Up's 4 x 16
2d. High knees for 45 seconds 4 x's
30 seconds rest in between round, no rest in between exercises
Finisher (This wasn't included, but we know you love these so here is a freebie)  Every Minute On The Minute (EMOTM) for 4-6 minutes of…
3. Cross Body Mountain Climbers x 20
3b. Split Jumps x 10 (5 each leg)
Zach Marcy is known as the Rebel Strength Coach. This native Texan is notorious for slipping into his southern drawl in the middle of training while exuding an unparalleled passion and enthusiasm with unconventional training tactics in the fitness industry. His niche is training hardcore women and men that want to step their training up to get extraordinary results. Zach excels at techniques that carry his clients physical transformations into their personal, professional and psychological areas of life. His hardcore blog for women is at http://www.dimepeaceproject.com.
You can also get a free report on how to survive the holidays without all the weight gain at http://dimepeaceproject.com/holiday-thrival-guide/