A letter from your final 15 lbs…
Hi. It's me, your last 15 lbs. Look, I know you and I have had our differences. But we had some good times, too. Ha, remember that Saturday a couple of weeks ago when we hung out and watched the Beverly Hills 90210 marathon?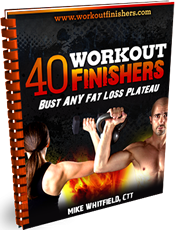 We sure did keep Doritos in business that day. It's not my fault. It's stressful wondering if Donna and David will make up or not. They are worse than Ross and Rachel on "Friends".
Anyway, I feel we're at a breaking point. I can tell you don't want me anymore. I've been seeing you toy with the idea of hanging out with my ex:
Metabolic Resistance Training and Metabolic Finishers
I can't bring to the table what MRT and MFs can. There's no way the two of us can exist. I just feel we're at a point where you get more benefit from MRT and MFs.
I can tell you're itching to get rid of me, once and for all. I don't even see how I could make a comeback once you start using these two. So, I'm going to be the bigger person and walk away.
It's not you, it's me.
As a matter of fact, my best friend, Miss Big Belly, was Mike Whitfield's close friend for years and they went through the same thing. He just had enough and broke up with her years ago.
You can read the rest of that break-up here.
Miss Belly was rather big, and all 105 lbs of her disappeared since Mike decided to use metabolic resistance training and metabolic finishers.
She tried to stick with him, but he wouldn't listen. He kept lifting the weights and doing the finishers. She told me that when he first started, he really struggled. He was exhausted while just warming up, but he wouldn't give in.
Now, he's 105 lbs lighter and hasn't spoken to Miss Belly in years.
Between you and me? I think I saw him last week doing this finisher from the unannounced bonus that is currently on the download page:
 The "Push and Thrust 4 X 4"
Do the following superset up to 10 times, resting as little as possible. Time yourself and try to beat your previous time the next time you perform this finisher:
1A) Pushups (4)
1B) Squat Thrusts (4)
After he was finished, he saw Miss Belly and did something disturbing. It was unlike his character. He had a devilish grin and flicked her off! That's so unlike him.
I guess they ended their relationship on bad terms. I remember her telling me that Mike was at a breaking point and decided to get rid of the fat once and for all.
So, I think that is where YOU are.
I can't compete with Metabolic Resistance Training and Metabolic Finishers. There's no way that I can even compare to over 60 finishers and two MRT programs.
Now Mike is having a cheesy "TT Trainer of the Year" Celebration. What a jerk. I almost blame this breakup on him.
He is giving away his finishers and MRT programs for under $20.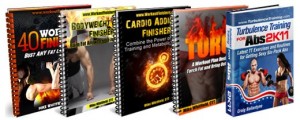 All I can give you for under $20 is a large pizza, some TV watching and a feeling of guilt. But hey, we had a good run.
So, by this time tomorrow, you will start with the "Torch" Metabolic Resistance Training program and choosing one of his crazy finishers, and I will start to disappear immediately.
The next thing you know, you'll be buying new clothes and shrinking your waist line, while I find someone else to hang out with.
(Ha-ha. I'm hilarious. Get it? "Hang out" with?).
Did YOU just flick me off? That's just rude. I can tell you've had enough of me. Well guess what pal, I've had enough of you, too. Let's break this up once and for all.
Honestly? I think you're too much of a wuss to use finishers with your program. Yeah, I said it. After all, they are very challenging. I'll just hang out so you can "sew your wild oates".
You will be back with me by next week. I just have to figure out a way to distract you for the next 24 hours because that's when Mike's program DOUBLES in price.
"Look at me! Look at me! I've lost 105 lbs! I'm so cool!"… WHATEVER.
Fine. Click here to save 89% on his Finishers Program
I hope I see you again one day, but I doubt I will, as long as you are using metabolic resistance training and metabolic finishers.
We had some good times, but like I said, all good things must come to an end,
Your last 15 lbs.
P.S. I didn't actually say, "all things must come to an end". So, that last sentence didn't make any sense. Now you're wasting your time reading this weird PS. My bad.
Now you're really mad.
Start your break up with the last 15 lbs here
Tags: metabolic finishers, metabolic finishers for fat loss, metabolic resistance training programs