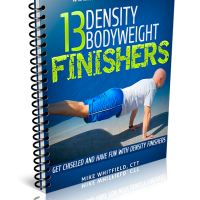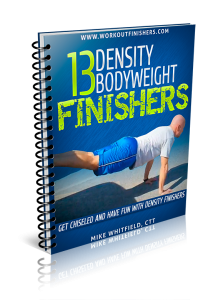 What a fun, yet nasty density bodyweight finisher on today's agenda. Good times are ahead for you my finisher friend.
Everything old is new again. Or at least that's how it seems.
The oldest workout method in the world is bodyweight training.
And it's popped up this year in the top three fitness trends for 2013, according to the latest survey by the American College of Sports Medicine.
People love bodyweight because they can do it anywhere. They don't need a gym. And it's easy to fit into even the busiest lifestyle.
There's a problem with most bodyweight programs, though. They tend to be incredibly boring.
Or that's what I used to think, until I met my buddy Adam Steer.  Adam's innovative bodyweight workouts have earned him the nickname "The Bodyweight Coach." With good reason.
He taught me moves I've never seen anywhere before. And he gets serious results for his clients.
You can try out one of Adam's workouts right here for FREE BUT I'm adding some Finisher Awesome sauce with a density finisher…
==> Cool follow-along bodyweight workout (FREE today)
Add this density finisher once you're done (if you dare)
"The Bodyweight Density Super 6"
Do the following circuit as many times as possible in 6 minutes, resting only when needed:
1A) Y Squat (6) 1B) Triple Stop Pushup (6)  1C) Burpee (6) 1D) Split Shuffle (6/side)  1E) Body Saw (6) 1F) Star Jumps (6)
Try that workout, then read the entire page to find out how bodyweight training will even allow you to cut your workout time in HALF while still getting the same fatloss results.
After all, I don't have time to waste at the gym. And neither do you.
You're going to want more when you try this for yourself. And I'll tell you where you can get it, along with 39 of my zero equipment finishers…
Adam's brand new Bodyweight Burn program is fresh off the presses this week. And to celebrate, he's offering it at a HUGE $50 discount via the VIP link in this email. You'll also get a total of 7 extra bonuses for *FREE*, including his powerful 10-in-12 Diet:
Cut your workout in half and lose more fat <— VIP invitation
And when you do get it from the link above, forward your receipt to us asap to cranktraininghelp@gmail.com so you can get my ENTIRE Bodyweight Finishers System as a bonus.
13 Gauntlet Bodyweight Finishers
The nasty, but very effective gauntlet method bodyweight finishers
13 20-10 Bodyweight Finishers
This isn't your normal 20-10 method. We went a little crazier using this unorthodox method. My client started sweating just one round into it.
13 Density Bodyweight Finishers
This is easily your favorite method. After doing the finisher above, you'll see why this hot style is so addicting.
Bodyweight Dirty 30 Program
30-Minute powerful bodyweight metabolic resistance training workouts
Bodyweight Switch
Another favorite – metabolic workouts using the fat-burning power of strength and finisher supersets.
You get all of these as a bonus when you get Adam's program today.
Here is the link to use to get all 5 bonuses
Enjoy the workout and the free bodyweight training info on this site.
Mikey, CTT
Tags: bodyweight circuits, bodyweight workouts, bootcamp workouts