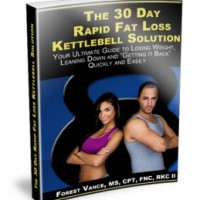 Yesterday, I told you about my friend Forest Vance and he had a wicked KB/Bodyweight workout for you. My favorite was his density superset of the Goblet Step-up and Pull-ups. That's some powerful calorie-burning right there… perhaps enough to burn off my Aunt B's sweet potato casserole I'm having on Thursday.
Yeah, I call my Aunt Becky Aunt B… what's up?
Forest is a stand-up guy and his approach is simple. And right now, he's got a special offer JUST for you with his 30-Day Rapid Fat Loss Kettlebell Solution. He did a big favor just for my Finisher Friends.
This program is perfect, especially this time of year. His workouts are short, and his meal plans are easy to follow.
Check out the special offer just for you here

Just a few things you'll get with this program:
A tough, fun, efficient and effective workout based on his UNIQUE kettlebell combo method
An outline and specific plan detailing EXACTLY what you need to do for the next 30 days to lose as much fat as humanly possible. He lays out a complete workout routine as well as an easy-to-follow and done-for-you meal plan.
Written AND video instruction on how to perform the basic kettlebell moves – all of your "learning bases" are covered
Tips and tricks to beat your food cravings, plan your meals in advance, and eat well while eating out
Solutions to common kettlebell training problems – how to figure out what size KB to start with, how to scale up, how to prevent KB training injuries, what type of footwear to use, and much more
Click the link below to grab your copy of the 30 Day Rapid Fat Loss Kettlebell Solution:
=> The 30 Day Rapid Fat Loss Kettlebell Solution (OFFER EXPIRES)
And here's a video Forest did JUST for you… it's a fat-torching finisher (of course)
Boom goes the kettlebell dynamite,
Mikey, CTT
P.S. Grab Forest's no-brainer offer right here (This offer DOES EXPIRE)